Community Expo Showcases ER at Sun City Center
By Bob Sanchez
The ER at Sun City Center hosted a Community Expo to show off the brand-new facility to the public. The free-standing building is an extension of Manatee Memorial Hospital.
Attendees were treated to coffee and donuts as well as a tour of the facilities conducted by Amy Beaubien, Director of Imaging Services at Manatee Memorial Hospital. She noted that the building was constructed in Alabama in sections and assembled on its US-301 site "like Lego pieces."
The Expo featured many of the services Manatee Memorial Hospital offers, including emergency care, cardiac care, stroke care, blood pressure checks, wound care, cancer awareness education, and weight loss. Participating organizations included Manatee Physicians Alliance, Manatee Diagnostic Centers, and Manatee Outpatient Rehab.
"This expo will help provide awareness of preventable health problems and encourage early detection and treatment of disease," stated Tom McDougal, CEO of Manatee Memorial Hospital. "We are proud of our expansion in the Sun City Center area, and we look forward to meeting the needs of our new neighbors in the community. The Sun City Center Free Standing ER is ready for you!"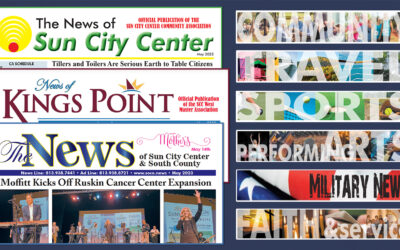 In this issue… Learn about the Moffitt Cancer Center kickoff, get an update on the Waterset Sports Complex, improve your green thumb with the Tillers and Toilers and the Elegant Gardeners, sail with the Cygnet Yacht Club, save the date for the...