Celebrate 60 years with the Men's Club, mark the season with the Holiday Cart Parade, join in the fun of Lighting Up SCC, review the progress of the Long Range Planners over the past year, enjoy "Hi, Neighbor!", learn whooo visited the Audubon Club, fly with a massive flamingo, get some holiday gift ideas, make Family Connections, meet some incredible neighbors, celebrate Christmas in the Wild, commemorate a century of life, revisit a war zone, explore why Samaritan Services is vital to SCC, learn why the Lifeline program can help save a life… and, if you're a member of the SCCCA, cast your VOTE!
Then be sure to check out the Holiday, SCCCA Club News, Kings Point News, Military News, Sports, Arts, Faith & Service, and Community News sections to help you plan your month.
Read the December 2022 Issue of The News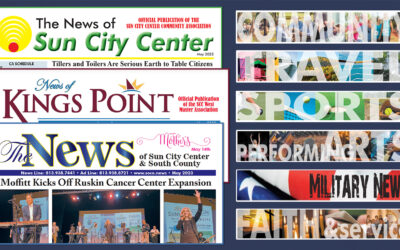 In this issue… Learn about the Moffitt Cancer Center kickoff, get an update on the Waterset Sports Complex, improve your green thumb with the Tillers and Toilers and the Elegant Gardeners, sail with the Cygnet Yacht Club, save the date for the...