HCSO Community Resource Giveaway on August 13
By Deputy Jeffery Merry, HCSO
On Thursday, August 13, from 8-11 a.m., at Community Hall, 1910 S. Pebble Beach Blvd., the Hillsborough County Sheriff's Office will be giving away several community resources, including:
Hurricane Preparation Guide
Community Resources Guide
Scam Prevention Guide
This is a good opportunity to get useful information in your hands. The event is co-sponsored by the Hillsborough County Sheriff's Office, The Emergency Squad, and the South Shore Coalition for Mental Health and Aging. Distribution will be drive-through only.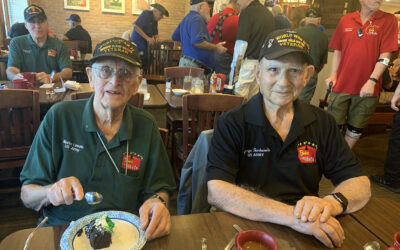 99th Birthday Party at Bob's VetsBy Diane M. Loeffler On the morning of December 16, a party was held at Bob Evans Restaurant for Maurice (Mo) Lanouette. Mo's actual birthday was Saturday, but the Bob's Vets group decided to honor Lanouette...