As we turn our clocks back (November 6) and look forward to fall, we hope you are doing well and excited about another beautiful month here in Sun City Center and South Hillsborough County.
After Hurricane Ian, our neighbors in South Florida and wildlife here in SCC need some assistance. Meet some folks working to offer that help. Discover how some of your neighbors decked their halls for Halloween, save the date for "Hi, Neighbor!" and the annual Holiday Golf Cart Parade, get an update from the Long Range Planning Committee, celebrate an "Island Man," Meet the Candidates for the SCCCA Board of Directors, cruise and learn with Tampa Bay Watch, read an After the Storm report from HCSO Deputy Jeff Merry, revisit the Mosquito Bowl, learn 10 reasons to enter your cart in the Holiday Parade, meet a centenarian, and get ready for all the upcoming seasonal events in SCC & South County.
Then be sure to check out the SCCCA Club News, Kings Point News, Military News, Sports, Arts, Faith & Service, and Community News sections to help you plan your month.
Read the November 2022 Issue of The News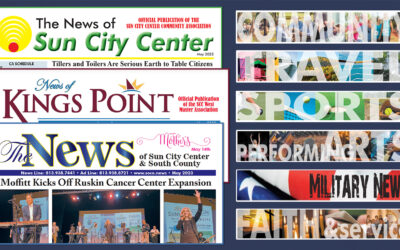 In this issue… Learn about the Moffitt Cancer Center kickoff, get an update on the Waterset Sports Complex, improve your green thumb with the Tillers and Toilers and the Elegant Gardeners, sail with the Cygnet Yacht Club, save the date for the...