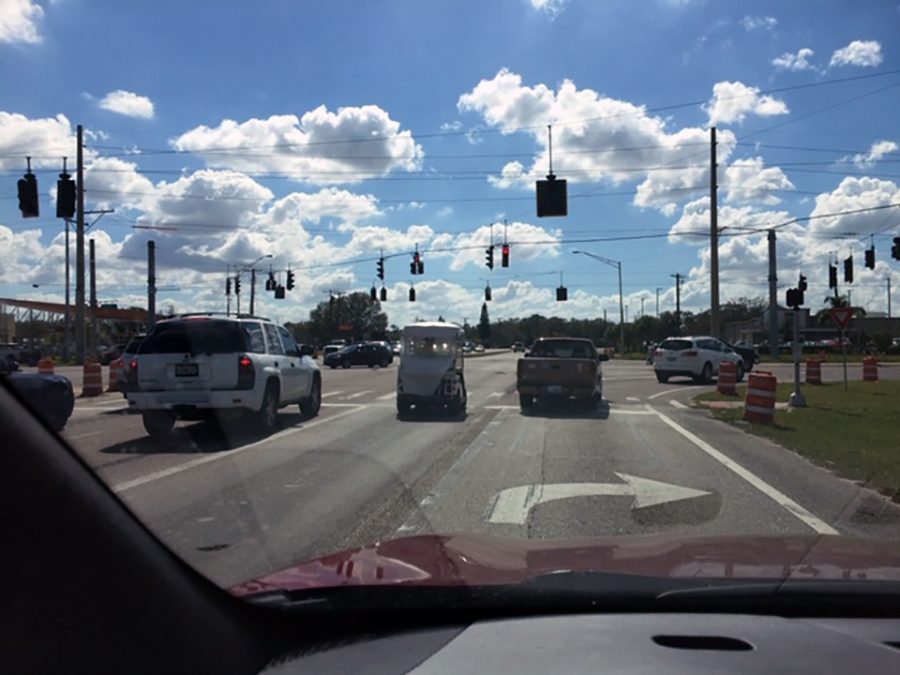 Enjoying Cars and Carts in Sun City Center
By Diane M. Loeffler
Although most residents of Sun City Center keep very, very busy with clubs, sports, activities, and volunteerism, we may move at a slower pace. This can take a little getting used to. Keep a watchful eye for pedestrians, wheelchairs, mobility scooters, bicycles, motorcycles, golf carts, and other cars. Also, be very sure not to exceed the speed limit since doing so may be extra-problematic with all of the different types of vehicles on the CA roads.
Remember that bicycles and golf carts are legally recognized as vehicles. Most of them will be courteous and stay on the right side of the road. However, they are legally allowed to use the car lane. As a matter of a fact, if a golf cart or a bicycle is planning to make a left-hand turn, they are actually supposed to move to the regular traffic lane before they do so. So, take your time, keep your eyes open, share the road, and enjoy life here at Sun City Center.
Golf Cart Tips & Rules of the Road
At least once each year, Deputy Merry holds a seminar on golf cart safety. Here are some things we learned.
According to FSS 320.01 (22) a golf cart is a motor vehicle that is not capable of exceeding speeds of 20 m.p.h. Golf carts are set for a maximum speed of 19.5 m.p.h. Larger tires might add 3 to 4 m.p.h. A low speed vehicle is one with a top speed between 20-25 m.p.h. Low speed vehicles must be tagged, registered, and titled. They should drive only on streets with limits of 35 m.p.h. or less.
Golf carts may only be driven on streets that have been officially approved by the state. This includes streets within the Community Association boundaries and privately owned streets. Carts must be equipped with efficient brakes, a reliable steering apparatus, safe tires, a rearview mirror and red reflector warning devices.
Golf carts may also travel on designated golf cart paths. These are located on the south side of SR 674, the north side of Upper Creek Drive and the west side of Cortaro Drive. Golf carts may cross State Road 674 at four intersections: Valley Forge / Kings Boulevard, SCC Plaza / Trinity Lakes Drive, North Pebble Beach Boulevard / South Pebble Beach Boulevard and El Rancho / Stoneham Drive.
If you are on an unapproved road, you can be fined over $160. The officer also has the option for charging you with lack of a title, lack of insurance, no seatbelt, no windshield wipers, and not having a glass windshield. Golf carts are allowed to cross 301 only at the designated path that runs between East Del Webb and Walmart. This is exclusively a path for golf carts. Pedestrians, bicycles, and other vehicles may not use this path.
Owners of private property make the decision of whether or not they allow golf carts on their roadways and parking lots. Kings Point, American Eagle Boulevard near Sun Towers, Valencia Lakes, and several businesses allow golf carts on their roadways and in their parking lots. You can tell if a street is a private road by the color of its sign. Private roads have blue signs. Public roads have green signs.
Golf carts must adhere to all Florida State Traffic Statutes including, but not limited to passing in a no passing zone, hand and / or electronic signaling when turning, coming to a full and complete stop at stop signs and red lights, driving the same direction as traffic, never driving on sidewalks, and not making illegal U-turns.
If you are on an approved road, golf carts are legally entitled to use the car lane. However, it is courteous and wise to stay in golf cart lanes when they are available and to stay near the right side of the lane when they are not unless you are planning to make a left-hand turn. Before turning left, you should be in the regular car lane.
Handicap parking placards go with the individual, not the vehicle. You are legally allowed to use them with your golf cart. Display the placard in a way that it is visible but unlikely to be stolen.  It is requested that if you park your golf cart in a handicapped space that you park in a way that allows a second golf cart to park next to you.
You may wish to go to one of the golf cart stores to purchase a one-of-a-kind key for your golf cart, especially if you store your cart in a car port. You may also wish to find a way to lock your golf cart. There are 5-10 golf carts stolen per year and occasionally a battery or charging cord is stolen. Statistically, this is a very low given the large number of golf carts in our community, but statistics don't matter when you are the owner of a stolen golf cart.
Photo by Mark Erickson