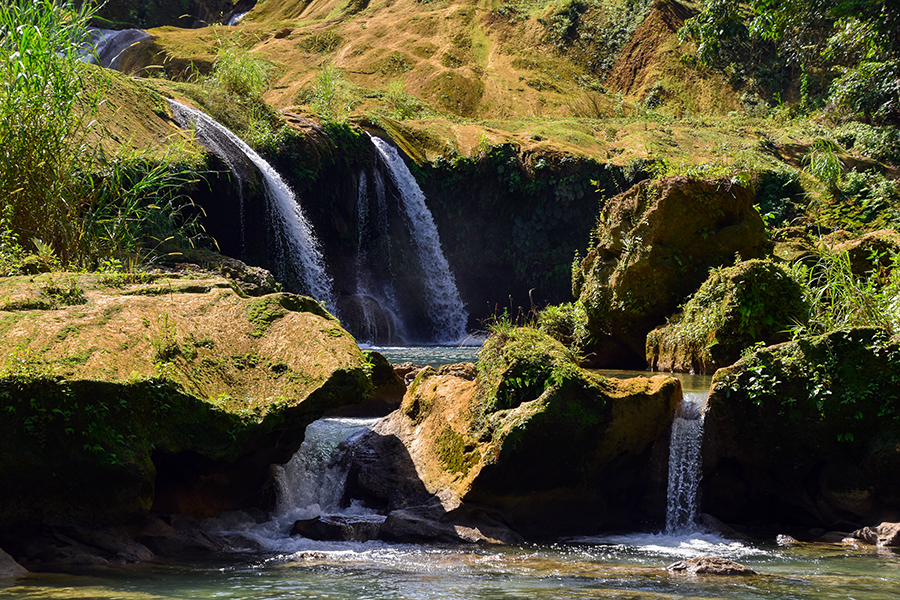 This is Cuba? – See More, Experience More
By Kai Rambow
The wind whispering through the trees. Water rippling, cascading down the mountain. This is Cuba? It is – if you venture beyond the cities. We opted to explore one of Cuba's national parks, El Nico.
El Nico showcases Cuba's natural beauty with a surprising variety of waterfalls and wonderful views.  This tour is not for everyone.  It involved hiking up very steep inclines and slippery conditions, even in some dry places.  If you have the physical ability, it is rewarding.  In an attempt to get a photo, I ended up in the water.  Camera landed safely in a dry spot; I was completely wet and still had a great time.
Note: There are other easier, great tour options to colonial Trinidad or in Cienfuegos itself.
Mention Cuba and people think of Havana. However, there is much more. It's easy to forget that Cuba is the largest island in the Caribbean, seventeenth largest in the world and longer than Florida.
Passing through non-tourist towns and the countryside provided a glimpse into more of Cuba.  For example, as we passed through one town we noticed several taxis that were horse drawn carriages. There are 12 million people in Cuba, but only 2 million cars. There is a bus system, but hiring a private car, bicycling or walking are common options. This was much more noticeable driving through the countryside than it was in the city.
Having the opportunity to see beyond the historic sites and experience the natural beauty of Cuba was a captivating adventure.
Tips for a Great Trip
Take a Cruise: The easiest way to visit Cuba is by cruise ship. One very adventurous passenger had done a land trip staying at B&Bs. The B&Bs had no air conditioning and communal bathrooms. After sightseeing all day, returning to creature comforts on your ship is probably a preferable travel option.
Cruise options now range from just a few days stopping only in Havana to eight day cruises with three stops in Cuba. One consideration: in some stops tenders are used to transport passengers ashore.
Pack Patience: If you've cruised before, you may be used to simply walking off the ship. Every port in Cuba required us to clear customs. This takes some time, so you will need to be patient.
Work with a Travel Agent: Traveling to Cuba is new, and there are several questions you'll have. For example, when experiencing difficulty booking this excursion, our agent directed us to an alternative.
Cruise Tours vs. Private Tours: Cuban tour companies have adapted quickly to meet American preferences. They now use modern buses complete with air conditioning and a toilet on board.
Private tour companies often use air conditioned cars with a driver and tour guide. This is a more intimate experience, and can be customized to meet your interests. The key on a private tour is to ask good questions about daily life to learn more about Cuba.
Visas: One advantage of cruising is your visa can be easily processed by the cruise line. They'll provide you with the paperwork and charge the fee to your onboard account.
Money: US dollars are not accepted in Cuba. After clearing customs, there are money exchangers. The rate is fixed and you will be given Cuban convertible pesos or CUCs (CUC$).  These are different than currency used by Cubans. CUCs have pictures of famous monuments or buildings. Local currency has pictures of famous people. Be sure to check you have received the right currency. Tip: Attend the briefing on board ship to know what to expect.
Shore Excursions: Recommend booking well in advance. Was too late booking, so booked private tour with Caribbean Pearl Tours. Tour was paid in advance through website. Only needed CUCs for snacks and tips.
Special thanks to Jayne Kirse, Manager at Sun City Center Travelworld, for her invaluable assistance.
Caribbean Pearl Tours
www.caribbeanpearltours.com