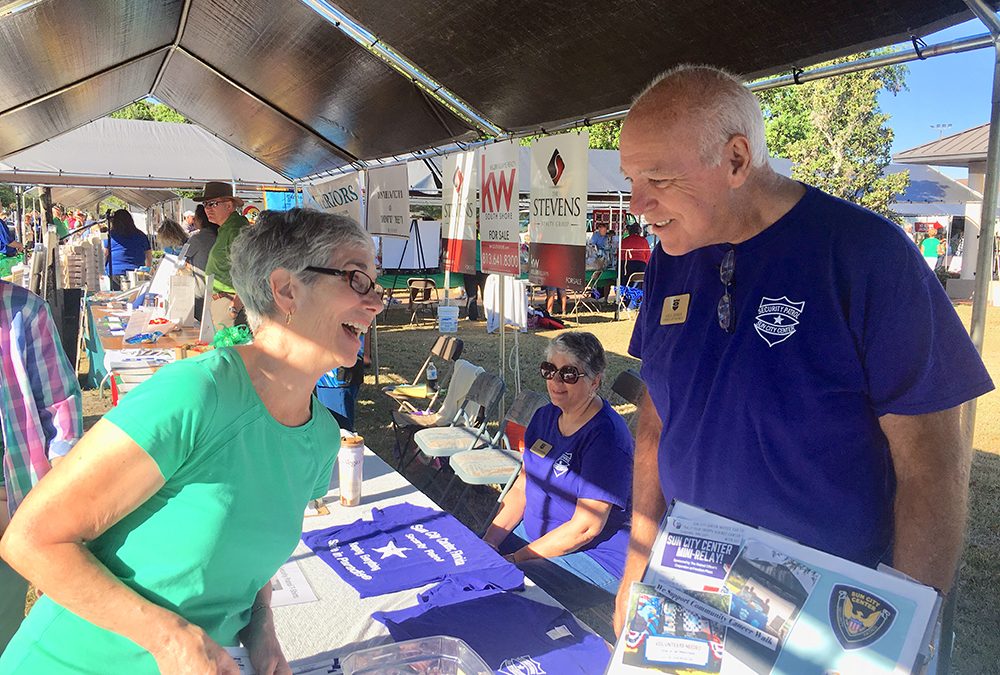 Come to FunFest on March 16       
By Diane M. Loeffler
Come to FunFest for a day of food, entertainment, shopping, prizes and a health fair! The day begins at 9 a.m. with the flag raising, Pledge, National Anthem, and opening remarks.
Getting There
Drive your car to Community Hall at 1910 South Pebble Beach Boulevard and take one of Aston Gardens comfortable, handicapped-accessible buses to north campus. Buses will begin running at 8:30 in the morning and run until 2:30 in the afternoon. The bus will get you closer to the action than you can get to any other way.
Prefer coming by cart or bike? Parking will be in the same place as last year, the fields behind the parking areas north of the Atrium Building. As always, there will be parking attendants. This year the rows will be labeled to make it easier to find your bike or cart afterwards.
Streets and parking lots will be blocked off beginning the evening of Friday, March 15. The parking lot that is reached via North Course Road will be reserved for the Eye Associates' Eye Mobile Bus, One Blood and other vehicles associated with the festival. The Arts and Crafts parking lot will be for the use of the entertainers.
Have a pet? Unless your four-legged friend is a certified service animal, please leave him or her at home.
Entertainment
Stop by the information tables for the FunFest map and schedule. These tables will be located near the bus stop, next to the Pottery Wheel Club, along Cherry Hills, and at the Club Kiosk in the Atrium.
This year you can see the entertainers you have enjoyed in the past, and some new acts as well. Elvis, Kevin and the Dukes will be back. 3Dom will be there as well. If you have gone to Circles on Saturdays, you may have heard 3Dom perform at that restaurant. You may also have enjoyed 3Dom when they entertained at the CA Gazebo. The Wonders of Nature program is among those outside groups returning to inform and entertain us this year.
Fourteen CA clubs are providing entertainment this year including the Swim Dancers, many of our wonderful vocal groups, dance classes and exercise groups. See how talented your friends and neighbors are. Maybe you can even learn how to join their groups. Of course, it wouldn't be an event without The Front Porch Pickers. You can count on them putting a smile on your face again this year.
Health Fair
Be sure to stop by the Health Fair. It will be located in the Caper and Horizon Rooms in the Atrium. You will learn so much about your health and what you can do to maintain it.
During the fair, you can receive a diabetes screening consisting of measuring your BMI (Body Mass Index) and blood draws for cholesterol screenings. You can have your blood pressure, your skin and your veins checked. You can find out about DNA cancer testing from one organization or have the test done (a mouth swab) from another. Proof of your Medicare card will be necessary before the swabbing.
Have your balance assessed and your walking assistance devices tested for safety. Learn about new hearing aid technology, insurance options, prostate cancer, Lifeline, hearing loss, as well as organ and tissue donations.  If you step outside you will see two buses. In one bus, vision screenings including distance and glaucoma checks will be offered at no cost. In the other bus, you will have the opportunity to donate blood.
Shopping and Prizes
Stop by the club rooms. These spaces will be full of items to purchase. Most clubs also sell chances to win some of their best and most unique creations. Many clubs will be demonstrating their craft. There will also be vendors selling their wares.
Food
If being out in the fresh air and taking part in all of the activities doesn't make you hungry enough, the wonderful food aromas wafting around on March 16 certainly will. The assortment of foods available can allow you to eat breakfast, lunch and snacks without ever repeating a menu item. Menus are tentative at the time of publication, so decide on a few favorites to choose between. Here is the mouthwatering list: scrambled eggs, breakfast sandwiches, sausage, bacon, pretzels, Elite Donut donuts, brats, Italian sausage, beans, potato salad, hotdogs, cookies, apple pie, cherry pie, strawberry shortcake, pork chops, chicken sandwiches, Polish sausage with kraut, ice cream bars, popcorn, chips and beverages.
See you on March 16!