After COVID-19 restrictions forced the 2020 Bay Area Renaissance Festival to close early last season and shuttered many shows across the country for the past year, the theme for the 2021 Bay Area Renaissance Festival was, "We can't wait to celebrate!"
This was a sentiment expressed by patrons, "playtrons," vendors, and cast members alike, as many of the traveling cast sat home last year, waiting, hoping, and, indeed, praying for the pandemic threat to be mitigated.
Standing atop a neatly stacked tower of chairs, preparing to juggle fire, one of the fan-favorite returning performers, Ichabod Wainwright, daredevil master of the "Wheel of Death," expressed that eager sentiment this way: "When there's a pandemic happening, and your job description is 'gather people close together in large groups and encourage them to scream,' well… you're fired."
Wainwright was not the only Festival performer excited to be back on stage. It's been more than a year since the color-coded tumblers Acrobellum performed their signature mix of slapstick humor and awe-inducing acrobatics for a live audience. The troupe was clearly excited to be back dazzling audiences with their feats of skill, strength, and agility.
All across the Festival grounds, guests browsed wares offered by more than 100 artisans; cheered brave knights and high-flying daredevils; tapped and clapped to live music; shared bawdy belly laughs with washerwomen, escape artists, and muddy thespians; met unicorns and mermaids; rode elephants, and indulged in the signature mix of fun, fantasy, artistic excellence, athletic prowess, and mead-flavored frivolity that makes a Renaissance Festival an annual must-go for millions across the country.
After last year's program was cut short, this year's Festival almost didn't happen at all. To make good on that old theater truism, "The show must go on!", organizers had to secure a new location, contract vendors and performers, then get the word out to faithful fans and new patrons alike. They did. Fans flocked to the temporary new digs at Withlacoochee River Park near Dade City. Sure, it looked and felt a little different, but the show did "go on," and countless thousands were once again happily transported back in time to a magical, mystical, whimsical, and memorable rendering of the Renaissance.
PHOTOS
"Lady Rayka" (Rosalie Purvis) from the Equus Nobilis Joust company gallops into position to make another pass. (Photo by Adam Porter)
Acrobellum's "Teal" and "Red" perform as "Pink" (and the audience) cheer them on. (Photo by Adam Porter)
A couple who came ready for Festival fun. Vendors and visitors alike wore outrageously colorful and imaginative costumes. (Photo by Bob Sanchez)
Everyone smiled at the Festival, including the pretty pickle purveyor. (Photo by Bob Sanchez)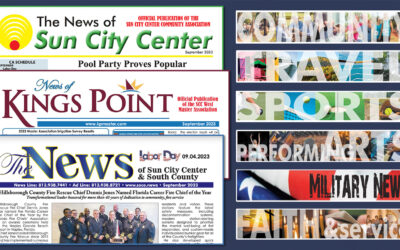 In this issue… Have some Pool Party fun, celebrate with the History Society, register for the Active Life Games, see why local volunteers rock, go Trail Blazing, learn why a local fire chief received a lifetime honor, support Adaptive Sports,...