5th Annual SCC Relay for Life Surpasses Goal
By Bob Sanchez
The 5th annual SCC Mini-Relay for Life drew hundreds to St. Andrew's Presbyterian Church on July 29 to raise money in the fight against cancer. The event raised $16,757.39, easily exceeding its goal of $15,000. Co-chair Sarah Baez expects the final number to surpass $18,000.
Connie Lesko originated the Mini-Relay at Freedom Plaza, where she is Business Development Coordinator with the Retired Officers Corp. She directed the event there for four years. This year, she has turned over chairmanship to Brian Bower, an Edward Jones Financial Advisor, and to Sarah Baez, a Senior Care Consultant at CarePatrol. Meanwhile, Lesko continues to provide considerable support to their effort.
"I felt led to start it when my 54-year-old nephew was diagnosed with colon cancer," she wrote in an email, adding that she has lost him and three other dear friends to cancer since that time. So for her, fighting cancer is deeply personal.
Beverly Gaussiran represented Freedom Plaza at the event.
Thirty-eight teams worked hard to raise the funds by paying for display tables, selling hot dogs, beer, raffle tickets, and bingo cards. Baez enthused that they also had "a wine pull, social media marketing, the remembrance tree at the South Hillsborough Chamber of Commerce and boots on the ground efforts, and it is all going to the American Cancer Society!"
The organizers made a point of thanking St. Andrew's Presbyterian Church for generously letting the fundraising event use some of its space. Of course with an event such as this, many people pitched in: Tammy Schoonover, Senior Development Manager with the American Cancer Society; Kim Bauer, volunteer extraordinaire; Sean Andrews, Financial Advisor with Edward Jones; Julie Brink, Branch Manager with Lake Michigan CU; Lynne Conlan, Executive Director with the South Hillsborough Chamber of Commerce; Joanne Bassinger, volunteer extraordinaire; Thina Huskey, Realtor with Keller Williams; and members of the St. Andrew Presbyterian Church.  "So many people came together to donate their time or resources," Baez noted.
TOP PHOTO: Mini-Relay founder Connie Lesko, left, with this year's co-chairs Sarah Baez and Brian Bower.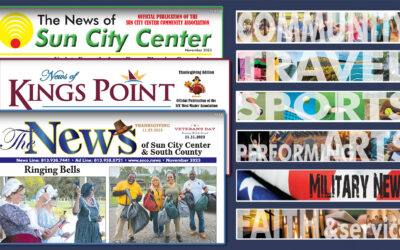 Discover what the Long Range Planning Committee is working on, find out how folks cruise around SCC, hear from the candidates for CA Board of Directors, ring bells with DAR, support local kids, laugh with the Pelican Players, travel to…