99th Birthday Party at Bob's Vets
By Diane M. Loeffler
On the morning of December 16, a party was held at Bob Evans Restaurant for Maurice (Mo) Lanouette. Mo's actual birthday was Saturday, but the Bob's Vets group decided to honor Lanouette during their weekly breakfast get together on Thursday.
There was a cake, balloons, and a huge birthday card signed by 52 Bobs Vets attendees. Lanouette was presented with congratulatory letters from Vern Buchanan and Governor Ron DeSantis. He also received a framed commendation signed by all Hillsborough County commissioners and a commemorative coin from Mike O'Dell of Veterans Helping Veterans.
Mo Lanouette was born in New Hampshire. He later moved to Louis, Massachusetts. The Army sent him to the Beacon Hotel for basic training. He practiced his drills on the Florida beaches. Mo served as a Supply Technician during WWII. He served in England, France, Germany, Okinawa, Alaska, and Massachusetts. He retired from the military after 20 years of service as a staff sergeant.
Lanouette met his first wife, Molly, in England. After retiring from the Army, they lived in Dunstable, England, where he worked for General Motors.  Lanouette says, "Our house was a ten-minute walk from the bus. The bus trip only cost twenty cents, so I never had a car until I was 62 and was given one by General Motors."
Lanouette returned to the United States after his wife passed away in 1988 or 1989. He moved to Kings Point in 2001. His second wife, Madelyn, passed away in 2006. In 2016, Joanne Campbell became Lanouette's caregiver. She took him on an Honor Flight in 2019.
Mo and Molly had two children, a son and a daughter. His son is deceased. His daughter, Diane, lives in England. She flew to Sun City Center to see her father in the Veteran's Day Parade last year.
Lanouette says, "I have a sister who will be 100 on December 30 and a brother who is 95." Lanouette also belongs to a coffee group. They meet at McDonalds. He says, "Last birthday my coffee group friends came to my house with a band."
Congratulations, Mo, on reaching age 99. It certainly would be great to write another article next year when you reach 100!
In the photo: Mo Lanouette and George Tamburello at the Bob Evans.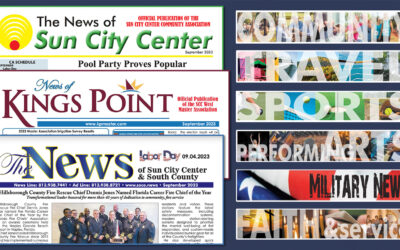 In this issue… Have some Pool Party fun, celebrate with the History Society, register for the Active Life Games, see why local volunteers rock, go Trail Blazing, learn why a local fire chief received a lifetime honor, support Adaptive Sports,...