A Guided Tour of Native Florida, Right Here in SCC
By Diane M. Loeffler
On the first Tuesday of the month, without fail, John Lampkin is at the West Campus Nature Trails at 9 a.m. ready to take you on a free tour. This is your chance to see how this area once appeared and to learn from someone who is knowledgeable and enthusiastic. You certainly will not be bored!
The latter part of August was quite wet, so when I decided to take the tour on September 1, I wore boots. Figuring that mosquitoes like wet places, I put on a lightweight, long-sleeved shirt and long pants. I sprayed some bug repellant on my neck and hands and was ready to go.
Lampkin begins his tour at the canal that runs under West Del Webb. The canal is part of a system of ponds, lakes and canals Del Webb dug to drain the area for development.
Lampkin points out the non-native grasses and the native plants surrounding the canal. Three years ago, a grant for $20,000 was given to help clean out the non-native species that were taking over the canal area, since club volunteers clear out the area by hand. A combination of donations and dues from the SCC Audubon Club help fund periodic assistance from an outside service to remove invasive plants.
Entering the forested area, you will walk through the Mesic Pine Flatwoods ecosystem. You will also see the shady, closed canopy flatwoods area. There are many oak trees including one Lampkin says is, "at least 200 years old judging from the diameter of its trunk."
There is a large area of saw palmettos. Saw palmettos are spread by rhizomes. The saw palmettos we see here could well be part of a very, very old plant. Only three percent of Florida's longleaf pines remain, so seeing a virgin stand in our little trail area is very exciting. Lampkin says, "You can tell this is an old area because you can distinctly see four generations of longleaf pines next to each other."
On the tour, Lampkin points out all sorts of bugs, spiders, lizards and birds. He shows you where they nest, the plants that feed them and the flowers they pollinate. Best of all, he knows the names of the plants, animals and insects.
Like me, you may see turtle eggs on a sandy mound. Lampkin shows you the wasps, bees, and butterflies feeding on flowers and laying eggs on leaves. Some of the creatures are very, very tiny. Lampkin often took photos and then enlarged them so that I could see the detail of the plants and of the life forms on them.
One of the smallest flowers was on a hatpin plant. Lampkin says, "When I first saw it, I thought, what kind of insect will pollinate that? As I observed it over the years, I found 26 species that pollinate it." By the way, Lampkin also keeps track of all the species of bees and butterflies that make the trail area their home. Ray Webb (not a relative of Del Webb) keeps a record of all the types of birds in the trail area.
Lampkin says, "People may not realize it, but the landscape here is very harsh. Plants and animals must learn to adapt to dry springs and very wet summers. Turtles and some insects lay their eggs in the ground and must find a place higher than where the water will rise."
In nature, areas such as this would periodically catch fire and the cycle of growth and life would begin anew.
The trails were the brainchild of Mike Raff and were originally maintained by the Hiking Club. The SCC Audubon Club took over in 2015. In 2018, the SCC Audubon Club and the Community Association won 2018 Environmental Project of the Year from the Tampa Bay Association of Environmental Professionals. Club volunteers maintain the area with help from the Community Association staff who mow the paths.
The trail is on the west side West Del Webb, north of Seton Hall Drive and south of Vincennes Drive. There is no car parking there, but you can drive your golf cart over the grass to a marked parking area under the trees. You should leave your cart there as golf carts are not allowed on the trails.
Wear closed toe shoes or boots so that you don't trip over any roots or stumble on uneven areas. You may wish to spray some insect repellant on any uncovered skin. You can learn more about the trails at "www.sccauduboclub.com/nature-trails". You can also learn about Florida ecosystems at "www.fnai.org".
Visit the trail whenever you can for a peaceful walk and some time with nature. Also, consider marking "9 a.m. the first Tuesday of the month" on your calendar. You will be amazed at all there is to see when John Lampkin is your guide.
If you wish to know more about the Audubon Club, contact Mary Duncan at 813 260-3322.
IN THE PHOTO: 
John Lampkin conducts tours of the West Nature Trail path. Lampkin uses his experience as a musician and naturalist to make YouTube videos. He has won awards for his nature photography including one of a palmetto skipper for the American Butterfly Association's magazine.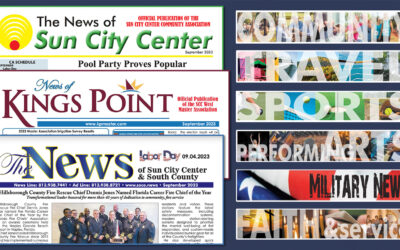 In this issue… Have some Pool Party fun, celebrate with the History Society, register for the Active Life Games, see why local volunteers rock, go Trail Blazing, learn why a local fire chief received a lifetime honor, support Adaptive Sports,...