December 14, Amazon hosted a holiday party for 250 local children and donated $15,000 in in-kind gifts for families and children at the Vinik Family Boys & Girls Club at Winston Park. The online retailer also presented a donation of $60,000 to Feeding Tampa Bay as part of their fight against hunger and to improve household stability for a total $75,000 donation.
Children were greeted by over 80 local Amazon employees as they entered the "Winter Wonderland" where they sipped hot cocoa, decorated holiday cookies and ornaments, adorned and stuffed their own Christmas bags with candy, danced, played holiday games, and more. Children then made their way to "Santa's Workshop" where they met the famous Santa Claus and took home a toy of their choice.
This local donation is part of Amazon's larger initiative to give more than $1 million in donations during the month of December to nonprofits supporting families in need in areas near Amazon fulfillment centers across the nation. This effort will supplement the $15 million in donations that Amazon has contributed to nearly 450 local nonprofits and schools and more than 15 million pounds of food to food banks across North America throughout 2018.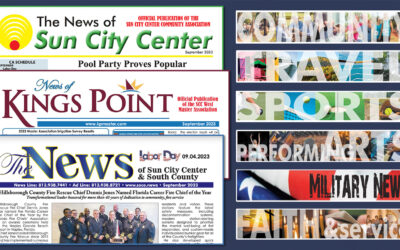 In this issue… Have some Pool Party fun, celebrate with the History Society, register for the Active Life Games, see why local volunteers rock, go Trail Blazing, learn why a local fire chief received a lifetime honor, support Adaptive Sports,...