Art Club Members Paint Through the Pandemic
By Bob Sanchez
The Sun City Center Art Club reopened its Art Gallery to the public on September 1 with the work of two dozen members, featuring paintings they created during the 2020 pandemic.
The participating painters were Jean Beardsley, Mary Chabot, Irena Davis, Mollie Fleck, Marion Giblin, Gary Gicking, Maureen Hileman, Gloria Hosek, Carol Husinka, Paul Kennedy, Meredith King, Bob Krowl, Marsha Lucidi, Bev Majewski, Faye McKeown, Anne Morton, Lori Murray, Dolores Phelps, Sandy Schuman, Ali Shannon, Flo Slater, Mel Solochek, Roberta Solochek, and Richard Whalen. Mel Solochek is the Gallery Director.
The show will be a recurring public event on the first Wednesday of every month from 1 to 3 p.m. at the Art Club on 954 Cherry Hills Drive. Be sure to have your current Community Association ID with you, and protocols for vaccinations, mask wearing, and social distancing will apply. The Club serves snacks and beverages, which I can attest are delicious.
The artwork changes monthly, according to President Lee Anne Eckert, "giving all members a chance to share their work from beginner level to advanced. Our members are inspired by the many different types of artwork exhibited and offer each support and encouragement."
Painting lessons are available to all levels, "no experience required," she added. They also have Open Studio time on Wednesday afternoons, except for the first Wednesday when we have the Gallery Opening.  There's also hold a yearly art show each January or February.
For more information about the Art Club, call Lee Anne at 973-714-5019 or email her at "laeckert@gmail.com."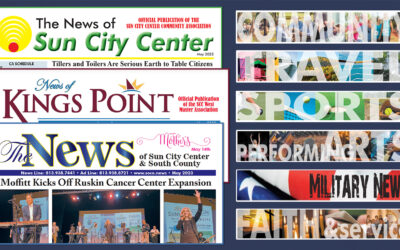 In this issue… Learn about the Moffitt Cancer Center kickoff, get an update on the Waterset Sports Complex, improve your green thumb with the Tillers and Toilers and the Elegant Gardeners, sail with the Cygnet Yacht Club, save the date for the...