Creative Person: Kelly Freeman Loves Stitching and Needlework
By Paula Lickfeldt
Kelly Freeman says she started stitching needlework when she was eleven years old.  She saw a kit in a magazine and her grandmother bought it for her.  After working on the project, she was hooked.  Up until three years ago, she and her husband, Mike, lived in Indianapolis, Indiana. 
They worked and raised their family in Indianapolis.
Every year Kelly and Mike would go to the state fair in Indianapolis. They would look at all of the needlework projects, and Mike would tell her that she needed to enter her work, because her work was every bit as good if not better than the projects that had been entered.  But Kelly was very busy raising their children and working so she just never had the time to enter anything.
When they retired, they spent a year traveling around the country visiting various Del Webb communities. They liked the idea of the 55+ community and wanted to live in one. They just weren't sure which one. When they arrived in Sun City Center, FL, they liked what they saw.  They were hooked by the number of clubs and activities that were available and they had friends who already lived in SCC. The cost of living and the weather in FL were also factors that helped make the decision to move to SCC.
They first year that they lived in Florida, they visited the Florida State Fair. Once again, Mike told her that she needed to enter her work in the fair competition. She did not have an excuse not to enter her work anymore, so the following year, she entered eight projects in several different categories.  Every project that she entered won a ribbon. In two categories, her work won first place, second place and third place awards.  She even won "Best of Show" for the whole needlework category.
Kelly also belongs to the Lapidary Club, the Dog Owners Group, the Travel Club, and the Tillers and Toilers Club in SCC.  She participates in the Embroiderers Guild of America chapter in Sarasota and the American Needlework Guild in Tampa. She is also an assistant at the Rolling Pin Kitchen Emporium in Brandon where she helps get everything set up for some of the cooking classes and when the class is over, she gets to clean up.  She particularly enjoys assisting for the Kid's Summer Cooking Camps at the Rolling Pin. Kelly's own cooking skills include her homemade Sourdough Bread that won a ribbon at the state fair also.
Back in Indiana, the church that Kelly and Mike attended was new and did not have any seasonal liturgical paraments.  Kelly and a group of other women from the church hand-stitched sets of all of the paraments. They also made a five-part Nativity Scene that was five feet wide and three feet tall.  When one of her friends or their child gets married, Kelly makes a wedding sampler as a gift for the couple.  She personalizes each sampler by using the wedding color scheme and then incorporating a design element either from the invitation or other special themes related to the wedding.
Sun City Center has an abundance of creative and talented people. Kelly Freeman is certainly one of them.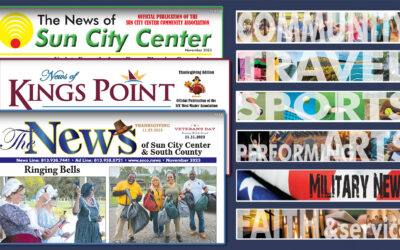 Discover what the Long Range Planning Committee is working on, find out how folks cruise around SCC, hear from the candidates for CA Board of Directors, ring bells with DAR, support local kids, laugh with the Pelican Players, travel to…