Mark your calendars for festive holiday fun on December 7. Plan to start your day with a delicious breakfast for only $5! The committee members have been busy planning the gathering, which will be held in Community Hall from 7:30 until 11:30 a.m. The breakfast is open to everyone in the area. Proceeds help to fund the Golf Cart Parade, free ice cream, and various other activities. 
After the breakfast, plan to take a Holiday Walk around the club rooms on the main SCCCA campus. Lots of handcrafted and unique items will be available for sale, and you will have a chance to meet several members of many SCC clubs. The Holiday Walk begins at 9 a.m. on December 7.
*News file photos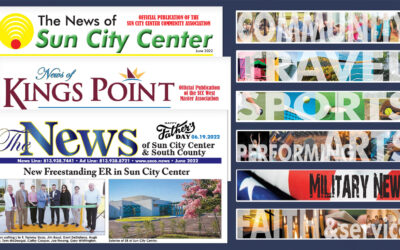 In this issue… Discover a new ER in SCC, meet the new SCCCA director, celebrate with Cygnet, commemorate Earth Day, take a low and slow balloon cruise, marvel at the world's largest flamingo, catch up on Entertainment News, save the date for...