Field Trip to a Tea House
By Diane M. Loeffler
On August 10, four local friends visited the Lavender and Lace Tea Room in Lake Alfred. Andrea Olson and I live in Sun City Center's Community Association, Annette Rawlinson lives in Kings Point, and Pam Click in the Little Manatee Springs Community in Wimauma.
The ambiance was very much what you would hope to have in a tea house. The decor was lace, flowers, white woodwork, lavender placemats and a view of lovely gardens. The staff was friendly and attentive and the surroundings were beautiful. A charming gift shop was just outside the restaurant. When Christmas is near, a separate holiday shop is open as well.
The menu included 16 types of tea, but it did not offer the scones, clotted cream, finger sandwiches, and little desserts I had come to expect in tea rooms in southwestern Tennessee and northern Mississippi.  On that day, the menu offered eight entrees, two salads, three sandwiches, and seven amazing desserts. For the current menu, visit "lavendernlacetearoom.com" or call 863-956-3998. Reservations are recommended.
According to my map program, getting there should take one hour seven minutes to 1 hour 20 minutes. However, we took the back roads to go to Lavender and Lace. Our scenic route took longer but we enjoyed seeing the countryside. The address is 30 N. Lake Shore Way, Lake Alfred, Florida. If you would like to dine in a relaxing atmosphere offering tasty homemade foods and desserts while sipping on tea, it is well worth the trip.
IN THE PHOTO: Left to right: Annette Rawlinson (Kings Point), Andrea Olson (SCCCA), Pam Click (Little Manatee Springs, Wimauma) and Diane Loeffler (SCCCA) enjoy an August afternoon at Lavender and Lace.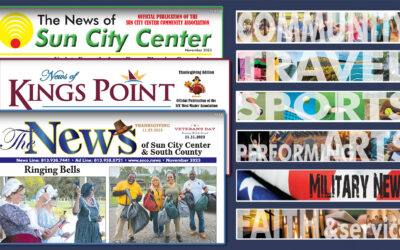 Discover what the Long Range Planning Committee is working on, find out how folks cruise around SCC, hear from the candidates for CA Board of Directors, ring bells with DAR, support local kids, laugh with the Pelican Players, travel to…