From Hobby to Museum Quality
By Kai Rambow
"It's museum quality," commented the gallery owner. High praise from an appraiser on the Antiques RoadShow. This was one of several highlights from a recent presentation by Diana Young of the China Painters club.
Young recently entered seven pieces at the Florida State Fair. Three won first place, another three won second place, and one of the first place winners captured best in show as well.  Young's work is currently displayed at the new De Stijl Art Gallery in Ruskin.
Young was presenting to a women's group and delighted them with highlights from her development as an artist, and enthralled them by showing her actual work. There's a lot more to China painting than meets the eye.
Young has been an enthusiastic porcelain painter for 20 years. She likes to experiment, learn new techniques and teach others about her discoveries.  The result is some stunning work.  Even though Young won big at the State Fair, she shared, "I'm all excited about my next piece."
The De Stijl Art Gallery is showing and selling local artists' works, many from our community.  They will be switching artists and displays every two to three months.  This rewarding experience is just a short drive away in Ruskin.  Note: Gallery is open only a few hours on Thursdays, Fridays, Saturdays, and Sundays.
De Stijl Art Gallery
100 E Shell Point Rd. (near post office)
Ruskin, FL  33570
(813) 773-7771
www.destijlartgallery.com/
IN THE PHOTO:  Diana Young delivering a well-received talk at the De Stijl Gallery in Ruskin. She is holding her first place and best in show vase.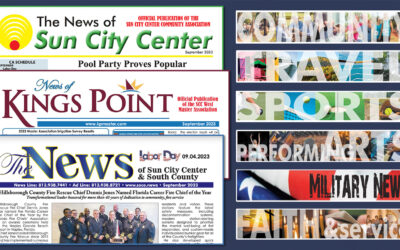 In this issue… Have some Pool Party fun, celebrate with the History Society, register for the Active Life Games, see why local volunteers rock, go Trail Blazing, learn why a local fire chief received a lifetime honor, support Adaptive Sports,...