Getting Wet in the Dry Tortugas
By Kai Rambow
Key West may be the end of the road, but you can head 70 miles farther west by taking the ferry to the Dry Tortugas. People love taking this day trip. It is a national park, so that means it's on many people's bucket list. There are several other reasons for taking this excursion. It's remote, so you can get away from it all. It's historic with a ginormous fort. It's scenic surrounded by clear, beautiful blue water. And it's fun, with opportunities to explore the fort, swim and snorkel.
Ft. Jefferson
This huge fort covering 16 acres has a rich history. park rangers offer guided tours. If you love interesting history, it's worth taking the tour so you know what you're seeing.
Snorkeling
There are several spots to go swimming and snorkelling.  Explanations about the different water spots are given during the ferry ride.  The snorkeling is more fun than spectacular.  Clear blue waters will evoke Caribbean feelings.  There are places to rinse off and change clothes near the dock.
Tips for a Great Trip
Weather
Surprisingly rough seas frequently occur during the winter; calmer waters prevail during the summer.  This trip can be great, but it's expensive.  One couple took the ferry in the winter and almost everyone was seasick.  They were given a voucher to purchase another trip at 50 percent off.  Recommendation is to check the marine forecast first for Dry Tortugas, not Key West, then check the marine forecast between Key West and Dry Tortugas. If conditions look good, then book your ticket.
What to Bring
The ferry's website provides very good information on almost all aspects of the trip.  Since this is an all-day excursion consider packing the following: comfortable footwear, light jacket, towel, bathing suit, change of clothes, hat, sunglasses, sunscreen, camera and possibly something to read.
Itinerary
The ferry is a comfortable, fast catamaran with indoor and outdoor seating. Breakfast and lunch are included. Snorkeling equipment, entrance fee for Dry Tortugas National Park and Fort Jefferson is also included.
Check in time is at 7 a.m. Once you check in, you're issued a boarding pass, so if you'd like to select a really good seat it's a good idea to arrive a little early.  Boarding begins at 7:30 and the ferry departs at 8.
Tip:  Crew will tell you that breakfast will be available for some time, so no need to rush.  Breakfast is only available for one hour and once out of a food item, such as fresh fruit, there were no replacements. Recommend you line up and get breakfast early.
The ride is a little over two hours with scenic views leaving Key West, possible dolphin sightings halfway and lovely views approaching Ft. Jefferson.
The ferry arrives at approximately 10:15. Most passengers will disembark and get outfitted with snorkeling equipment. The Fort Jefferson tour starts at 11 and takes almost an hour. It is possible to tour the fort and snorkel after, but a little planning is required.
Tip:  Lunch is served from 11 a.m. to 1 p.m. right in the middle of all these activities.  It's a similar situation to breakfast with the best items available until gone. You can tour the fort, and, if you eat right after, you should still have a good selection.
After lunch, you will still have time to go swimming or snorkeling, as the boat leaves at 3 p.m. Passengers will start to board at 2:30, a return a little earlier will beat the crowds for showers, clothing changes and seats. It's a full day and many passengers slept on the return trip, arriving refreshed in Key West by 5:30 p.m.
Dry Tortugas National Park
www.nps.gov/drto
Dry Tortugas Ferry
www.drytortugas.com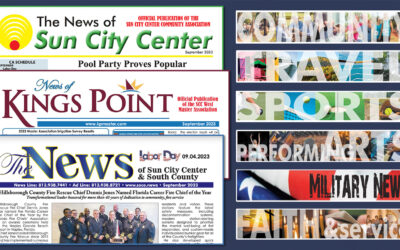 In this issue… Have some Pool Party fun, celebrate with the History Society, register for the Active Life Games, see why local volunteers rock, go Trail Blazing, learn why a local fire chief received a lifetime honor, support Adaptive Sports,...