Heart & Mind Health as We Age
Lunch & Learn Health Symposiums for Sun City Center Residents
The Emergency Squad, in conjunction with Sun Towers, and the Sun City Center Men's Club, is co-sponsoring a health symposium for residents. The topics will focus on heart health and depression and dementia. The symposium is being presented by Tampa General Hospital, who is also providing lunch. There will be two dates available, but both presentations will be the same. The first event will be held at Community Hall on April 9, from 12:30 to 3 p.m. The second event will be held on April 25 at Veteran's Theater in Kings Point, also from 12:30 to 3 p.m.
You must register in advance as space is limited. You can register for either event by calling 813.660.6101 or go online at "www.tgh.org/healthed".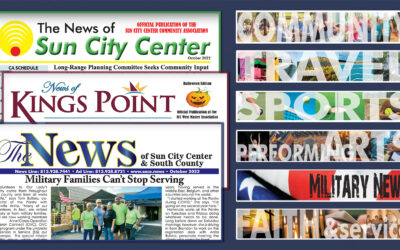 First and foremost, all of us at The News hope that all of you reading this came through Hurricane Ian healthy and safe. Our News team fared well, considering. A few trees and power lines down, loss of power, and the general inconveniences of temporarily...