Heart & Mind Health as We Age
Lunch & Learn Health Symposiums for Sun City Center Residents
The Emergency Squad, in conjunction with Sun Towers, and the Sun City Center Men's Club, is co-sponsoring a health symposium for residents. The topics will focus on heart health and depression and dementia. The symposium is being presented by Tampa General Hospital, who is also providing lunch. There will be two dates available, but both presentations will be the same. The first event will be held at Community Hall on April 9, from 12:30 to 3 p.m. The second event will be held on April 25 at Veteran's Theater in Kings Point, also from 12:30 to 3 p.m.
You must register in advance as space is limited. You can register for either event by calling 813.660.6101 or go online at "www.tgh.org/healthed".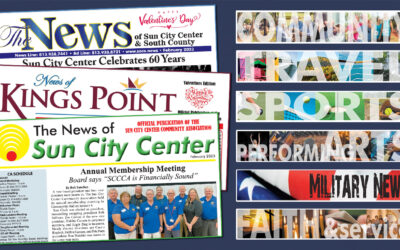 In this issue… Meet the new SCCCA board, enjoy amazing images created by Photo Club members, celebrate 60 years of SCC, jam with the Kings Point Music Makers, grab your calendars to fill with February festivals… Enjoy a Casual, Comfortable...