Hillsborough County to Open 2 Quarantine and Isolation Sites
Hillsborough County, Fla. (April 1, 2020) – Joining communities across the nation, Hillsborough County will open quarantine and isolation sites at 10 a.m. on Thursday, April 2 to house residents and family members impacted by COVID-19 coronavirus. The sites will allow isolation of residents who have tested positive for coronavirus or quarantine of those exposed.
The sites will help prevent further spread of the virus by providing shelter, food, telemedicine options, and basic services such as laundry and sanitation for residents who are able to care for themselves but unable to stay in their own home.
The sites – two adjacent hotels on East Fowler Avenue in Tampa with a total of 362 rooms – will be managed by Hillsborough County and the Department of Health in Hillsborough County (DOH – Hillsborough). By stepping up to assist the community and leasing these facilities to Hillsborough County, 111 jobs have been preserved.
Residents eligible to use the sites must first be pre-screened by DOH – Hillsborough. Those housed at the sites could include single individuals or family members like a spouse and child.
Hillsborough County has signed a six-month lease with both hotels to serve as quarantine and isolation sites. The length of time the facilities will stay open and whether additional sites will be opened will be determined by local conditions. The length of time individuals will stay in the quarantine or isolation sites will be determined by the Department of Health and each person's specific needs.
The two sites are the Quality Inn & Conference Center, 2701 E. Fowler Ave. in Tampa, and West Wing Hotel, 2501 E. Fowler Ave. The sole entrance for those using the sites will be the Quality Inn, 2701 E. Fowler Ave.
When the quarantine and isolation sites are no longer needed, both hotels will undergo medical-grade cleaning and sanitation. Hillsborough County extends its deep gratitude to both hotels for their willingness to serve as community partners and provide valuable shelter and services to those affected by the COVID-19 coronavirus pandemic.
Media will not be provided access to the property.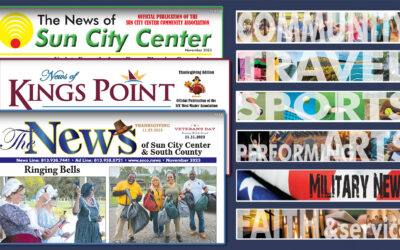 Discover what the Long Range Planning Committee is working on, find out how folks cruise around SCC, hear from the candidates for CA Board of Directors, ring bells with DAR, support local kids, laugh with the Pelican Players, travel to…