Home for the Holidays with the 2019 Golf Cart Parade
By Bob Sanchez
Mark your calendars for the Home for the Holidays Golf Cart Parade at 10 a.m. on Saturday, December 14. CA Director Larry Smith, the event coordinator, says that residents from Sun City Center, Kings Point, and Freedom Plaza are all welcome to decorate their golf carts and join in the fun. Entrants may be individuals or groups, including clubs, service organizations, HOA's and businesses.
Over $1,000 in prizes will be awarded. There's no cost to enter, and all entries have a chance to win. To participate, pick up an entry form at the front desk of the CA office and turn it in on December 9.
PHOTO: Drone photo by John Wakeman (News File Photo).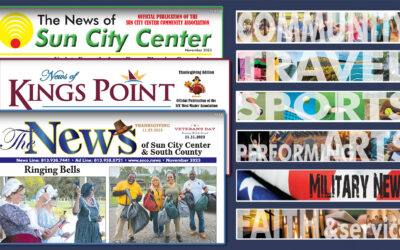 Discover what the Long Range Planning Committee is working on, find out how folks cruise around SCC, hear from the candidates for CA Board of Directors, ring bells with DAR, support local kids, laugh with the Pelican Players, travel to…