Jan Ring Quilter Extraordinaire
By Paula Lickfeldt
Jan Ring has been sewing since she was a youngster in 4H. She began quilting when she moved to Florida in 1984. Since that time, Jan has made many quilts and quite a few of them have taken ribbons in various quilt shows including the Florida State Fair.
During the Pandemic, Jan decided that she needed a project that would take the place of eating. Corona the Elephant came to life.
This wall hanging was made from a pattern by Violet Craft, a well-known modern pattern designer. The pattern allows for your own fabric selections. Jan chose bright Kaffe Fassett fabrics (and others) for her bold elephant and embellished it with a trinket from the Nearly New. Corona was exhibited at the Florida State Fair and it won a second place award.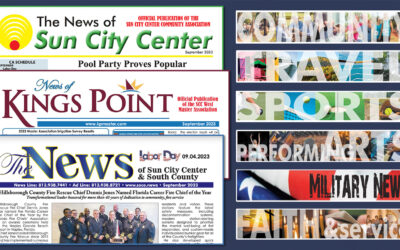 In this issue… Have some Pool Party fun, celebrate with the History Society, register for the Active Life Games, see why local volunteers rock, go Trail Blazing, learn why a local fire chief received a lifetime honor, support Adaptive Sports,...