Relive the festive fun of the Holiday Cart Parade, cruise SCC to find colorful lights and holiday decorations, swing by St. Andrew for Rock 'n' Roll Crafts and Cars, meet the new SCCCA Board members, check in with the Security Patrol, visit the Concours d'Elegance, save the dates and get your tickets for the CA and KP Entertainment Series, meet the "first" Centenarian, learn why Santa visited kids in Wimauma, smile at the "smallest" manatee, get some tips about visiting Yellowstone during the busy season, celebrate 80 years of bliss with the Meixners, add some books by a local author to your reading list, shoot hoops with the South Shore Basketball Club, and discover a simple way to become a local hero.
Then, be sure to check out the SCCCA Club News, Military News, Sports, Arts, Faith & Service, and Community News sections to help you plan your month.
Read the January 2022 Issue of The News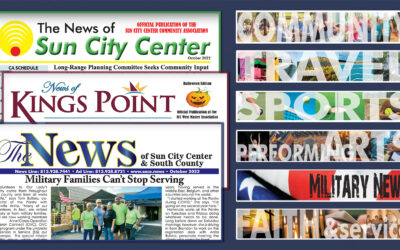 First and foremost, all of us at The News hope that all of you reading this came through Hurricane Ian healthy and safe. Our News team fared well, considering. A few trees and power lines down, loss of power, and the general inconveniences of temporarily...