Discover why bird lovers flocked to Community Hall, save the date for the Volunteer Picnic on February 15; cruise with the Holiday Cart Parade, see how folks celebrated Christmas in Wimauma, enjoy the Shrine Christmas party, hang out with Sir Richard Branson; catch up with Seniors in Service, the Silver Ospreys, and the Security Patrol; explore the new exhibitions at the Museum of Fine Arts, visit the Florida Theatre, celebrate with the Lapidary Club, meet the Athlete of the Month and a Hero of Service, connect with a vital Lifeline, go International and Beyond, find out which photo is the Best of the Best, enjoy some delicious and authentic Mexican food, and look back on a day when frost blanketed SCC in a big way.
Then be sure to check out the SCCCA Club News, Kings Point News, Military News, Sports, Arts, Faith & Service, and Community News sections to help you plan your month.
Read the January 2023 Issue of The News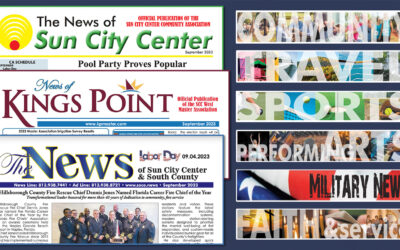 In this issue… Have some Pool Party fun, celebrate with the History Society, register for the Active Life Games, see why local volunteers rock, go Trail Blazing, learn why a local fire chief received a lifetime honor, support Adaptive Sports,...