Kings Point Garden Club Celebrates Cinco de Mayo
By Paula Lickfeldt
The residents of Kings Point have had space near the back entrance, for garden plots since 1990.  The garden club has many members and boasts a lot of diversity in their membership. Kings Point residents who have a garden plot come from Uganda, Greece, Thailand, Scotland, Jamaica, Korea, Mexico, Cuba, Italy Germany France, Lebanon, Canada, Bahamas and of course the US.
The area is measured  for 106 garden plots and 35 orchard plots. The orchards surround the other garden plots. The number of residents who are waiting to get a garden is 33. When someone decides that they want a garden, they sign up and wait until a garden becomes available.  When a garden is available the resident pays $25 yearly dues and they have a garden. If they also want to have an orchard, they must be a club member in good standing for six months before they are able to apply to have an orchard.  Several gardens are shared by two or more individuals.
Each month October through June the club has a membership meeting on the second Tuesday of the month. They are resuming the "happy hour social" on the Friday after the meeting. The Cinco de Mayo social had about 100 attendees who brought snacks to share.
Before the pandemic interrupted their activities, they had started getting involved with community efforts.  One example was helping some of the students at Gannon University set up raised bed gardens.  The club plans to continue this community involvement in the future.  They also have ongoing educational activities ranging from speakers at the garden to two day workshops at HCC in conjunction with the Community Extension Service and the University of Florida.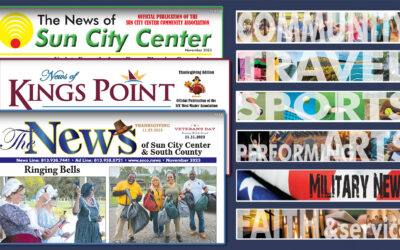 Discover what the Long Range Planning Committee is working on, find out how folks cruise around SCC, hear from the candidates for CA Board of Directors, ring bells with DAR, support local kids, laugh with the Pelican Players, travel to…