Our Community Resource Deputy Jeffery Merry is speaking on Government Imposter Scams and IRS Scams this month. Don't miss this important, informative seminar.
Three times, and locations to choose:
Tuesday, January 14, at 10 a.m.
The Caper Room, Sun City Center Community Association Atrium
Tuesday, January 14, at 1 p.m.    
Ripple Room, Kings Point Community
Tuesday, January 21, at 11 a.m.  
Freedom Auditorium, Freedom Plaza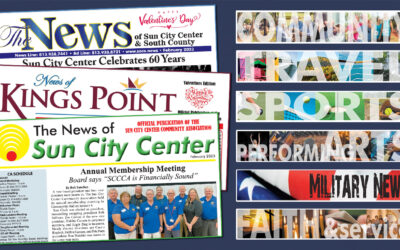 In this issue… Meet the new SCCCA board, enjoy amazing images created by Photo Club members, celebrate 60 years of SCC, jam with the Kings Point Music Makers, grab your calendars to fill with February festivals… Enjoy a Casual, Comfortable...