Our Community Resource Deputy Jeffery Merry is speaking on Government Imposter Scams and IRS Scams this month. Don't miss this important, informative seminar.
Three times, and locations to choose:
Tuesday, January 14, at 10 a.m.
The Caper Room, Sun City Center Community Association Atrium
Tuesday, January 14, at 1 p.m.    
Ripple Room, Kings Point Community
Tuesday, January 21, at 11 a.m.  
Freedom Auditorium, Freedom Plaza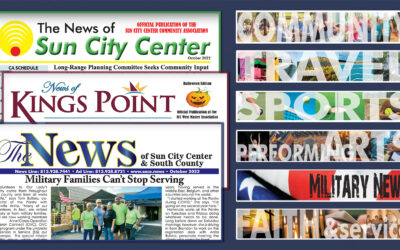 First and foremost, all of us at The News hope that all of you reading this came through Hurricane Ian healthy and safe. Our News team fared well, considering. A few trees and power lines down, loss of power, and the general inconveniences of temporarily...