Our Community Resource Deputy Jeffery Merry is speaking on Government Imposter Scams and IRS Scams this month. Don't miss this important, informative seminar.
Three times, and locations to choose:
Tuesday, January 14, at 10 a.m.
The Caper Room, Sun City Center Community Association Atrium
Tuesday, January 14, at 1 p.m.    
Ripple Room, Kings Point Community
Tuesday, January 21, at 11 a.m.  
Freedom Auditorium, Freedom Plaza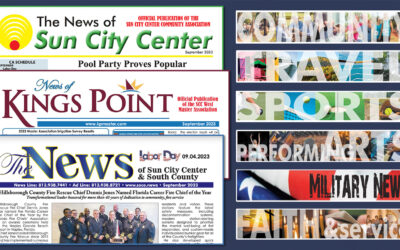 In this issue… Have some Pool Party fun, celebrate with the History Society, register for the Active Life Games, see why local volunteers rock, go Trail Blazing, learn why a local fire chief received a lifetime honor, support Adaptive Sports,...