Our Community Resource Deputy Jeffery Merry is speaking on Government Imposter Scams and IRS Scams this month. Don't miss this important, informative seminar.
Three times, and locations to choose:
Tuesday, January 14, at 10 a.m.
The Caper Room, Sun City Center Community Association Atrium
Tuesday, January 14, at 1 p.m.    
Ripple Room, Kings Point Community
Tuesday, January 21, at 11 a.m.  
Freedom Auditorium, Freedom Plaza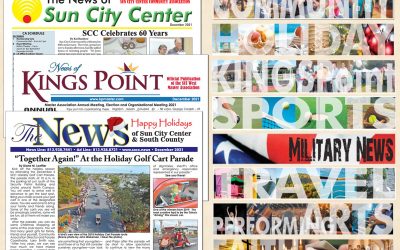 In this issue… Ring in the December holidays with the annual Golf Cart Parade, celebrate 60 Years of SCC, set sail on America's Tall Ship, get to know some local clubs, remember a tireless volunteer who made a big difference, meet a local war...