The Photo Club members wow us once again, the SCCCA announces a very important Town Hall meeting; a local Club donates thousands for lifesaving equipment; we visit the reopened Tampa Theatre; make some local Family Connections; celebrate support groups helping people in our community; catch up with a resident who hopes to introduce hockey to kids in Ukraine; our travel guide, Kai, spends a fun Weekend in Wimauma, before cruising over to Grape Hammock for an Adventure At High Speed… Did you know there are bison in Florida?? Then, we catch up with several local charities and civic organizations doing great work both here and abroad, and we learn why – this year only – the Renaissance has relocated to Dade City.
And be sure to check out the SCC Club News, Kings Point News, and Community News to help you plan your month.
Read the May 2021 Issue of The News
COVID-19 Vaccine Info
Florida hospitals and county health departments have received hundreds of thousands of vaccine doses. More are coming. Learn how these will be distributed and get more information at the Florida Department of Health website, "floridahealth.gov."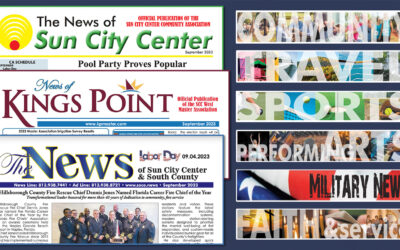 In this issue… Have some Pool Party fun, celebrate with the History Society, register for the Active Life Games, see why local volunteers rock, go Trail Blazing, learn why a local fire chief received a lifetime honor, support Adaptive Sports,...