Check out the Sew'n Sews baby shower benefit, meet the new SCC Activities Director, enjoy Faye McKeown's art, go Trail Blazing, learn about CA Club facility use, take off in a B-29, clean up with the Boy Scouts, bounce back Ping-Pong style, prepare for hurricane season, travel to Beguiling Bath, meet a real straight shooter, spend some time with the Immortal Tara, discover an amazing art talent from Sarasota, and send our Snowbird friends off in style.
And, be sure to check out the SCCCA Club News, Kings Point News, Military News, Sports, Arts, Faith & Service, and Community News sections to help you plan your month.
Read the May 2022 Issue of The News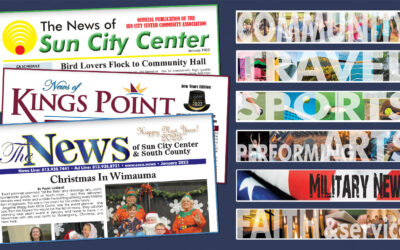 In this issue… Discover why bird lovers flocked to Community Hall, save the date for the Volunteer Picnic on February 15; cruise with the Holiday Cart Parade, see how folks celebrated Christmas in Wimauma, enjoy the Shrine Christmas party, hang...