Learn about the Moffitt Cancer Center kickoff, get an update on the Waterset Sports Complex, improve your green thumb with the Tillers and Toilers and the Elegant Gardeners, sail with the Cygnet Yacht Club, save the date for the July 4 Breakfast, go "skippering" down a local nature trail, catch up with the Beautification Committee, discover a Family Connection to SCC, get some pro tips on pet photos, learn how the Big Cats got a win, celebrate 60 years with the Women's Chorus, get to know Seniors in Service, look back on 40-plus years in real estate in SCC, cruise the Grand Canyon, and—SCCCA members—don't forget to vote about the Long Range Master Plan!
Then be sure to check out the Club News, Kings Point News, Military News, Sports, Arts, Faith & Service, and Community News sections to help you plan your month.
Read the May 2023 Issue of The News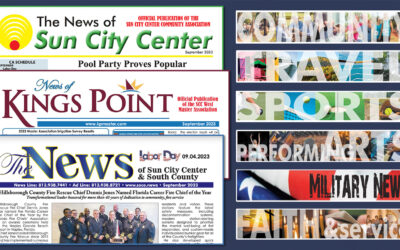 In this issue… Have some Pool Party fun, celebrate with the History Society, register for the Active Life Games, see why local volunteers rock, go Trail Blazing, learn why a local fire chief received a lifetime honor, support Adaptive Sports,...