Enjoy our FallFest coverage, including nearly three pages of photos, learn the history of the popular Bandstand concerts, read our interviews with the candidates for SCC Community Association Board of Directors, get the latest news on the new ER in Sun City going up next to Walmart, join Bob's Vets for breakfast, save the date for the next Pelican Players show, meet some local Olympic hopefuls, travel to the quiet side of the Grand Canyon, read our tribute to a local hero who will be greatly missed, learn the incredible history of the Coast Guard's Eagle, find out what's hiding Under the Big Top, shop for some Timely Treasures, learn when you can listen to live music from East Bay High School's Masterworks Choir, and explore some interesting destinations Just Around the Bend.
Then, be sure to check out the SCCCA Club News, Kings Point News, Military News, Sports, Arts, Faith & Service, and Community News sections to help you plan your month.
Read the November 2021 Issues of The News
COVID-19 Vaccine Info
Florida hospitals, county health departments, and local pharmacies have received hundreds of thousands of vaccine doses. More are coming. Learn how these will be distributed and get more information at the Florida Department of Health website, "floridahealth.gov."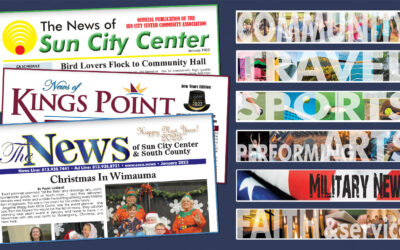 In this issue… Discover why bird lovers flocked to Community Hall, save the date for the Volunteer Picnic on February 15; cruise with the Holiday Cart Parade, see how folks celebrated Christmas in Wimauma, enjoy the Shrine Christmas party, hang...