Discover what the Long Range Planning Committee is working on, find out how folks cruise around SCC, hear from the candidates for CA Board of Directors, ring bells with DAR, support local kids, laugh with the Pelican Players, travel to Wild Florida, get important answers from the Security Patrol, make some Family Connections, sing with the Choir of Man, and meet an inspiring wounded warrior.
Then be sure to check out the Club News, Kings Point News, Military News, Sports, Arts, Faith & Service, and Community News sections to help you plan your month.
Read the November 2023 Issue of The News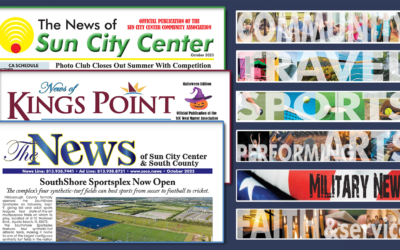 In this issue… Save the date for "Hi, Neighbor!", cruise over to the SouthShore Sportsplex, see why a grant was awarded to the Boys & Girls Club, discover why an SCC woman took TOPS honors, meet an Angel on Earth, enjoy a Dramedy on Aging,...