Palatka – A Deliberate Detour
By Kai Rambow
Nestled peacefully along the St. Johns River is Palatka. This historic Florida town is off   the beaten path, but not too far. It is a deliberate detour with rewarding scenic surprises. Palatka is known for its murals, and they are quite impressive. Most who drive through Palatka, never see the murals because they are located one street over from the main artery.
Here's a great way to tackle the murals. Park at the Hampton Inn by the river. Go inside and ask for a mural map. If you mention this article, I'll deny I ever steered you with these instructions. The map not only shows you where the murals are located, but gives a brief explanation of each one.
Some of the murals reflect how Palatka was once a popular destination with swanky hotels and a total of over 6,000 rooms. Babe Ruth even visited the town. One mural depicts an expedition discovering a Native village located here in 1774. Another shows the train arriving a little over 100 years later.
Annie Oakley brought her show here, and other shows such as high wire acts followed.  Musicians from the area made it big during the Jazz Age, and they returned bringing top musical shows to the town.
As you explore the murals, you may also get a feel for the town's heyday as the county seat. We're so used to modern Florida, it's nice to see some history of the state's early years. It is an interesting way to catch some art, some history and feel for the past.
Tips for a Great Trip
When to Go: I do not recommend this as a stand alone trip. This can be a great addition to any road trip especially if you're heading to St. Augustine or farther north. You could also make the detour from a road trip heading up I-75. It will take about one hour from each side.
You could do this as a short detour or you might want to stay overnight at the Hampton Inn by the river. One reader talked with me before this article came out and started their road trip one day early to have a short drive and activity on day one. This is a very scenic and quiet spot and you can easily take short walks along the river.
Unfortunately I cannot recommend any restaurants as I ate before reaching the town.
When to Walk: Recommend after sunrise or before sunset. You'll have plenty of light to see the murals and can beat the heat. You can also beat the sun because you're sure to find shade on one side of the street.
The total distance is 10 short, city blocks. It was an easy walk to the end and back allowing me to resee those murals that interested me most.
Do remember your sunscreen, comfortable walking shoes and a hat, if desired. A bottle of water might be a good addition.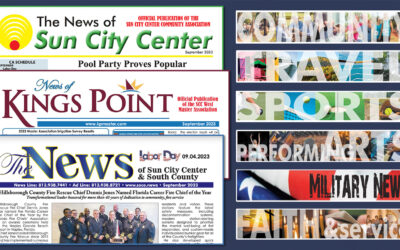 In this issue… Have some Pool Party fun, celebrate with the History Society, register for the Active Life Games, see why local volunteers rock, go Trail Blazing, learn why a local fire chief received a lifetime honor, support Adaptive Sports,...