SCC Celebrates July 4
By Kai Rambow
Sun City Center is returning to normal. Our usual July 4th breakfast didn't happen this year, but many activities traditionally held on Independence Day were back! Here are a few fun images from our nation's birthday.
Joanne Kerr of the Lapidary club showing one of the items for sale.
Members of the Lawn Bowling club held their regular practice sessions with many dressing in stars and stripes to mark the occasion.
The Model Railroad club set up a display in the Palm room to share with residents celebrating the 4th. Here Arny Goldklang fixes a track issue before visitors arrived.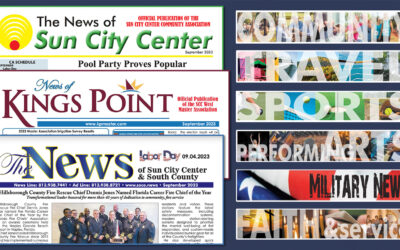 In this issue… Have some Pool Party fun, celebrate with the History Society, register for the Active Life Games, see why local volunteers rock, go Trail Blazing, learn why a local fire chief received a lifetime honor, support Adaptive Sports,...