Tour Ybor City's last cigar factory, sing with the bluebirds of happiness, save the date for FallFest, commemorate 60 years of SCC with the History Society, tip a glass at Alafia Brewing Company, hit the beach with some rescued sea turtles, take a field trip to a tea house, foster a furry friend, learn how the South Shore Coalition for Mental Health and Aging and "Let's Talk" are helping people, and take a scenic hike up at Paynes Prairie.
Then, be sure to check out the SCCCA Club News, Kings Point News, Military News, Sports, Arts, Faith & Service, and Community News sections to help you plan your month.
Read the September 2021 Issue of The News
To read in FULL SCREEN, click on the rectangle in the bottom right corner of the frame.
COVID-19 Vaccine Info
Florida hospitals and county health departments have received hundreds of thousands of vaccine doses. More are coming. Learn how these will be distributed and get more information at the Florida Department of Health website, "floridahealth.gov."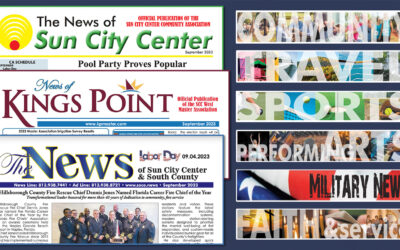 In this issue… Have some Pool Party fun, celebrate with the History Society, register for the Active Life Games, see why local volunteers rock, go Trail Blazing, learn why a local fire chief received a lifetime honor, support Adaptive Sports,...