Anchors aweigh! The Bay Area Renaissance Festival invites you to bring your furry friends and Pirates Best to Pirates and Pups Fest weekend, February 29 – March 1.
Piper's Valley, the Festival's special event area, will feature Pet Vendors and Competitions including the Pet Costume Contest and Weiner Dog Races. Local Rescues will also be set up, giving patrons a chance to find a furry friend of their very own.
Back by popular demand this year is Ultimate Air Dogs. Watch as dogs of all sizes participate in a high-flying, Dock Diving Championship.
This weekend marks the first of two Pirate Themed Weekends. Dress to impress for a chance to win prizes during the Perfect Pirate Competition or test your skill in a game of Swab the Deck.
Test your puzzle solving skills to escape the Castle in the All New Escape Room. Play Viking Games, learn about Viking Lore or watch the Viking Battles in the All New Viking Encampment. Get your picture taken in the Pit of Misery or become a Dungeon Master during Dungeons and Dragons Free Play.
Kegs N Eggs will be returning to the grounds of the Bay Area Renaissance Festival this April. The event will feature Craft Beer Tastings, Food Trucks, Live Entertainment and an Adult Egg Hunt! Search the grounds of the Bay Area Renaissance Festival for your chance at more than $75,000 in Prizes. More information is available at www.KegsnEggs.com
The Bay Area Renaissance Festival is a first-class experience whose 42nd Season began on February 15, 2020 and ends on March 29, 2020.  The Festival is open weekends and Friday March 27 from 10 am – 6 pm rain or shine.  Admission at the gate: Adults $22.95; Children 5-12 $14.95; four and under are free! Discount tickets are available at participating Circle K locations or online at www.BayAreaRenFest.com.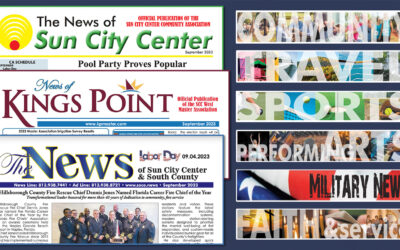 In this issue… Have some Pool Party fun, celebrate with the History Society, register for the Active Life Games, see why local volunteers rock, go Trail Blazing, learn why a local fire chief received a lifetime honor, support Adaptive Sports,...