Get the latest on the COVID-19 pandemic response from the CDC, Hillsborough County, and other local and state agencies and organizations. Learn how to outsmart scammers with tips gleaned from the Elder Care Summit. Celebrate artistic creativity with the Stained Glass Club; meet your very talented neighbors; get to know a family with deep connections to SCC; learn about some new local clubs; go Trail Blazing; revisit the colorful, musical fun of the Swim Dancers; and explore some SCC history.
Check out the Entertainment Corner, SCC Bulletin, Kings Point, Community News, Dance, Military News, Faith & Service, Arts, Sports, and South County Events sections to help you plan your month.
NOTE: Many events have been canceled or postponed, and some venues are currently closed. Be sure to contact the event organizer listed before attending.
Read the April 2020 Issue of The News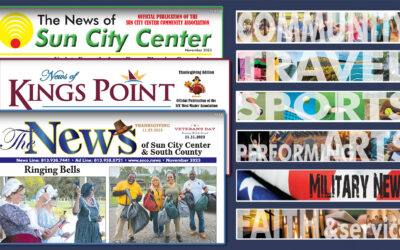 Discover what the Long Range Planning Committee is working on, find out how folks cruise around SCC, hear from the candidates for CA Board of Directors, ring bells with DAR, support local kids, laugh with the Pelican Players, travel to…