Recall the fun of the Fourth of July Breakfast and Pool Party, find a new and interesting story in local Book Nooks, meet a neighbor who's a real clown, and get to know a creative local sculptor. Then, discover an idyllic North Florida getaway, learn why TV star Mike Rowe was in town, discover how the Florida Aquarium is saving sea turtles right here in South County, meet a local athlete, have Coffee with a Cop, and learn how to protect your pets during the Dog Days of Summer.
Check out the SCC Bulletin, Kings Point, Community News, Dance, Military News, Faith & Service, Arts, Sports, Travel, and South County Events sections to help you plan your month. And travel with your friends and neighbors who took The News around the world.
Read the August 2019 Issue of The News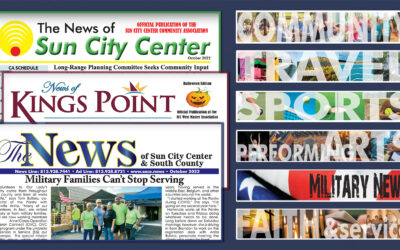 First and foremost, all of us at The News hope that all of you reading this came through Hurricane Ian healthy and safe. Our News team fared well, considering. A few trees and power lines down, loss of power, and the general inconveniences of temporarily...