In this issue…
Don't forget to vote for CA Board candidates, relive the fun of "Hi, Neighbor!" Say farewell to a friend, recall winter events in SCC's past, discover a delicious place to eat fresh for less, and see how the SCC Emergency Squad and Hillsborough County are working together. Meet an extraordinary local gardener, and a multi-talented creative person. Experience a lawn bowling showdown, and explore a new way to boost your holiday spirit.
And be sure to…
Check out the SCC Bulletin, Kings Point, Community News, Dance, Military News, Faith & Service, Performing Arts, Sports, Travel, and South County Events sections to help you plan your month. And travel with your friends and neighbors who took The News around the world.
Read the December 2018 issue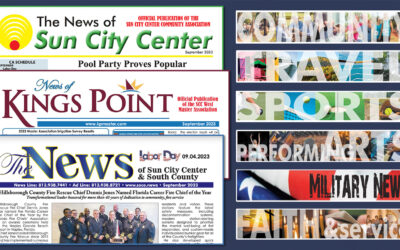 In this issue… Have some Pool Party fun, celebrate with the History Society, register for the Active Life Games, see why local volunteers rock, go Trail Blazing, learn why a local fire chief received a lifetime honor, support Adaptive Sports,...