Save the date for the Holiday Breakfast and Walk (Dec. 7), as well as the Holiday Cart Parade (Dec. 14). Find holiday lights to see in SCC, meet some local woodcarvers, potters, and bird watchers; find out what happened at "Hi, Neighbor!", get an update from the Long Range Planning Committee, reminisce about the Pretty Place, celebrate the Military Ball, discover the good being done through Our Lady's Pantry, learn about the U.S. Coast Guard Auxiliary Flotilla, find out about live music from the Bluewater Band, discover a new way to "get off the couch" and get moving, travel to see key deer in Big Pine Key…
Check out the Holiday, Entertainment Corner, Club News, SCC Bulletin, Kings Point, Community News, Dance, Military News, Faith & Service, Arts, Sports, Travel, and South County Events sections to help you plan your month. Then travel with your friends and neighbors who carried The News around the world.
Read the December 2019 Issue of The News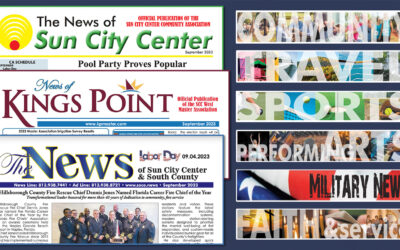 In this issue… Have some Pool Party fun, celebrate with the History Society, register for the Active Life Games, see why local volunteers rock, go Trail Blazing, learn why a local fire chief received a lifetime honor, support Adaptive Sports,...