The "Hi, Neighbor!" Tradition Continues
Don't miss it: November 7 at 6:30 p.m.
By Bob Sanchez
"Hi, Neighbor!" is coming to Community Hall on South Pebble Beach on November 7 from 6:30 until 8:30 p.m. Whether you're new to Sun City Center or just want to see what's new with our clubs, this is the perfect event for you. Members of almost 100 clubs will be ready to answer your questions and pique your interest. Aston Gardens will supply cookies, coffee and iced tea that the Line Dance Club will serve.
"Hi, Neighbor!" is Sun City Center's oldest tradition, having begun as the community's first club in 1962. John and Linda Bowker gave it new life in 1992, and since then it has evolved as a showcase for our cornucopia of clubs. Event Director Claudia Hinson says that the event offers residents "a more personal connection to the clubs." Janet Ditmore has volunteered to serve as 2019 "Hi, Neighbor!" Chair.
News file photo of 2018 "Hi, Neighbor!"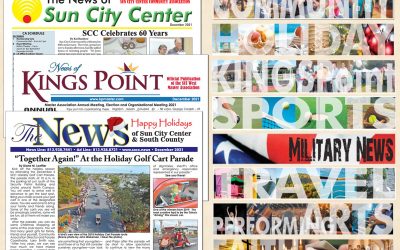 In this issue… Ring in the December holidays with the annual Golf Cart Parade, celebrate 60 Years of SCC, set sail on America's Tall Ship, get to know some local clubs, remember a tireless volunteer who made a big difference, meet a local war...