The community comes together to celebrate our healthcare heroes, and we catch up with the Pelican Players. We review updates to the COVID-19 guidelines, show you where to get tested, fill you in on new procedures for the re-opened SCC Library, and get back in the swing of things with SCC Softball.
We celebrate community members who really went the extra mile for their neighbors, shine a spotlight on a couple who has dedicated decades of exemplary service to this community, welcome a new CA board member, and tip our hat to another who is stepping away. We also take a moment to enjoy some "doggone good" happenings in Kings Point and celebrate with some happy couples who are marking major milestones in the midst of the pandemic. Then we get to know a remarkable local athlete, and delve into the life of an extraordinary woman with a review of "Florence Adler Swims Forever."
Enjoy these stories, and be sure to read the Bulletin and Community News sections to help you plan your month.
Testing Centers in Hillsborough County
Hillsborough County has a new testing reservation line. Call 888.513.6321 to make an appointment for a test at any of the seven county testing locations, including three in South County:
Redeemer Lutheran Church, 701 Valley Forge Blvd., Sun City Center
Wimauma Opportunity Center, 5128 SR-674
SouthShore Community Resource Center, 201 14th Ave. SE, Ruskin
Suncoast Community Health Centers, 313 S. Lakewood Drive, Brandon
Lee Davis Community Resource Center, 3402 N. 22nd St., Tampa
Plant City Community Resource Center, 307 N. Michigan Ave., Plant City
Raymond James Stadium, 4201 N. Dale Mabry Highway, Tampa
Reservation call center hours are weekdays, 8 a.m. to 5 p.m. Individuals arriving without an appointment will not be tested. You must have your confirmation code, as well as a photo ID with the name and date of birth of all persons being tested, when you go for the test. For further testing information, visit "www.hillsboroughcounty.org" and search "getting-tested". In the results, scroll down to "Testing & If You're Sick".
Read the JULY 2020 Issue of The News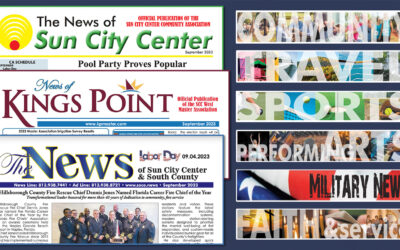 In this issue… Have some Pool Party fun, celebrate with the History Society, register for the Active Life Games, see why local volunteers rock, go Trail Blazing, learn why a local fire chief received a lifetime honor, support Adaptive Sports,...