Save the Date for the Senior Summit with AG Barr and AG Moody on March 3, as well as the can't-miss community-wide celebration of FunFest on March 21. Hear from the SCCCA Long-Range planners, meet a local Creative Person with many incredible talents, learn how to protect yourself from Identity Theft, read how a Classic Car & Craft Brew event supported scholarships for local students, and how the Samaritans celebrated their "Fun"raiser Dance. Also in this issue, the SCC Softball team plays USA Patriots, we discover a natural wonderland Right Next Door, and join an "Accidental Athlete" as he explores great ways to stay healthy…
Check out the Entertainment Corner, SCC Bulletin, Kings Point, Community News, Dance, Military News, Faith & Service, Arts, Sports, Travel, and South County Events sections to help you plan your month.
Read the March 2020 Issue of The News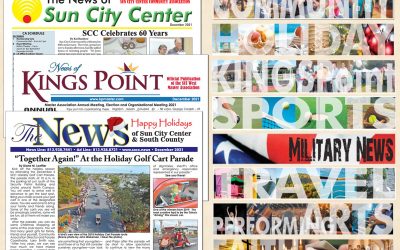 In this issue… Ring in the December holidays with the annual Golf Cart Parade, celebrate 60 Years of SCC, set sail on America's Tall Ship, get to know some local clubs, remember a tireless volunteer who made a big difference, meet a local war...