Meet the new HART CEO, learn about the county's higher stormwater fee, see who won the recent SCC Photo Contest, meet a new Creative Person, learn how to protect your legs for long-term health, discover how to protect yourself on social media, find out what those taped-off squares are on local beaches mean, and get to know the story behind My Warrior's Place. Then, travel to the Smoky Mountains, sign up for free fitness training for SCC CA members, prepare for the next CA Board election, look for the new pedestrian crossing light on Pebble Beach, catch up with SCC Connects, and dive into an enthralling read about an unlikely feather thief.
Check out the Entertainment Corner, SCC Bulletin, Kings Point, Community News, Dance, Military News, Faith & Service, Arts, Sports, Travel, and South County Events sections to help you plan your month. Then travel with your friends and neighbors who carried The News around the world.
Read the October 2019 Issue of The News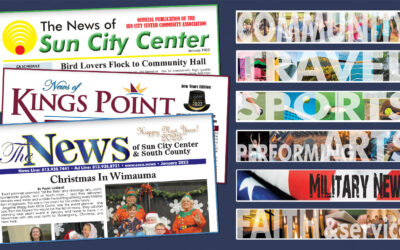 In this issue… Discover why bird lovers flocked to Community Hall, save the date for the Volunteer Picnic on February 15; cruise with the Holiday Cart Parade, see how folks celebrated Christmas in Wimauma, enjoy the Shrine Christmas party, hang...