Get some vital hurricane planning information; hear from the Long Term Planning Committee; meet SCC Librarian Joanne Gilray, and find out what's available at our community library; 'get off the couch' and have fun with the bicycle club; get the latest on proposed changes to Hillsborough County solid waste disposal; discover something new and amazing at the Dali Museum; meet some vital behind-the-scenes Emergency Squad volunteers; check out the winners of the summer photo club contest; meet an incredibly creative painter; get to know SCC's new veterinarian; travel to a galaxy far, far away just down the interstate in Orlando; and meet some neighbors with a Family Connection to SCC.
Check out the SCC Bulletin, Kings Point, Community News, Dance, Military News, Faith & Service, Arts, Sports, Travel, and South County Events sections to help you plan your month. And travel with your friends and neighbors who took The News around the world.
Read the September 2019 Issue of The News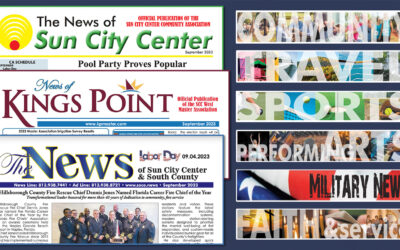 In this issue… Have some Pool Party fun, celebrate with the History Society, register for the Active Life Games, see why local volunteers rock, go Trail Blazing, learn why a local fire chief received a lifetime honor, support Adaptive Sports,...