"Together Again!" At the Holiday Golf Cart Parade   
By Diane M. Loeffler
Kick off the holiday season by attending the December 4 SCC Holiday Golf Cart Parade. The parade starts at 10 a.m. in the parking lot just south of the Security Patrol Building and circles around North Campus. You will want to arrive well in advance to get the best spot. Bring your chairs or park your golf cart in one of the designated areas. You are welcome to bring your family and friends along. Some of the carts you see will be amazingly creative, some will be fun, all of them will make you smile.
After the parade, you can do some Christmas shopping at some of the club houses. You will find many great gifts for family, friends and yourself. Community Association Director and Parade Coordinator, Larry Smith says, "After two years, we can see how much we have missed being together. I cannot think of a better way to celebrate than to be with family, friends and neighbors. Being together again. Lemonade and cookies are something that youngsters—and those of us that still consider ourselves youngsters—can look forward to."
Smith says, "We have had over 50 participants in our mile long parade that takes about an hour to complete. Introductions and Prizes after the parade will be short to allow spectators to continue to view the many creative entrants' carts around the gazebo on Cherry Hills. The parade route will be closed to automobiles during the event. This year we will have a number of dignitaries, sheriff's office and emergency responders represented in our parade."
See you there!
IN THE PHOTO: A bird's eye view of the 2018 Holiday Cart Parade route (Drone photo by John Wakeman / News file photo).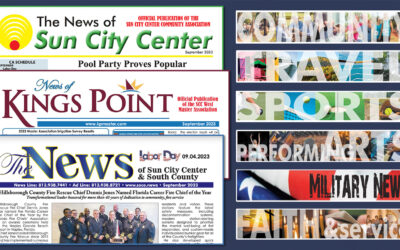 In this issue… Have some Pool Party fun, celebrate with the History Society, register for the Active Life Games, see why local volunteers rock, go Trail Blazing, learn why a local fire chief received a lifetime honor, support Adaptive Sports,...