Veterans Fair Draws Tremendous Response
By Kai Rambow
"I went all the way around, and I probably stopped at ninety percent of the tables," commented wheelchair-bound veteran, Patrick Clarahan.  "Just about every table, people were very easy to talk to.  There were a few tables at which I had to wait, but it wasn't that bad."
The wait was due to the tremendous response from community veterans. Hundreds showed up to learn about services available to them. Pam Smith-Beatty, a 21-year veteran herself, is the Women Veterans Program Manager with the VA.  When asked about the focus on women, Smith-Beatty illuminated: "A lot of times they don't think of themselves as veterans. Women do so many things, they often push their service to the side and we don't think about it. In reality, that service means that you're eligible for health benefits, care, loans and the GI bill. If you've ever served in any service, you should look and see what you're benefits might be."
Not knowing what is available was a common theme. Manuel Guevara with The Crisis Center of Tampa Bay shared how very few veterans knew about their center. "It is the epicenter for crises or referral.  We answer the 211 calls, the substance abuse hotline, and the suicide prevention line." Just about any question related to mental health and well-being can probably be answered by this center.  More importantly, they can let veterans know where to find help.
Clarahan was enthused to learn about some extracurricular activities that should help him get out of the house more.  "Because of my disabilities, I spend a lot of my time watching TV."  This well attended event was clearly helpful to many veterans.
In the photo: Bud Brubaker and Bill McKiernan volunteered to let Marine veterans know about the Leathernecks club.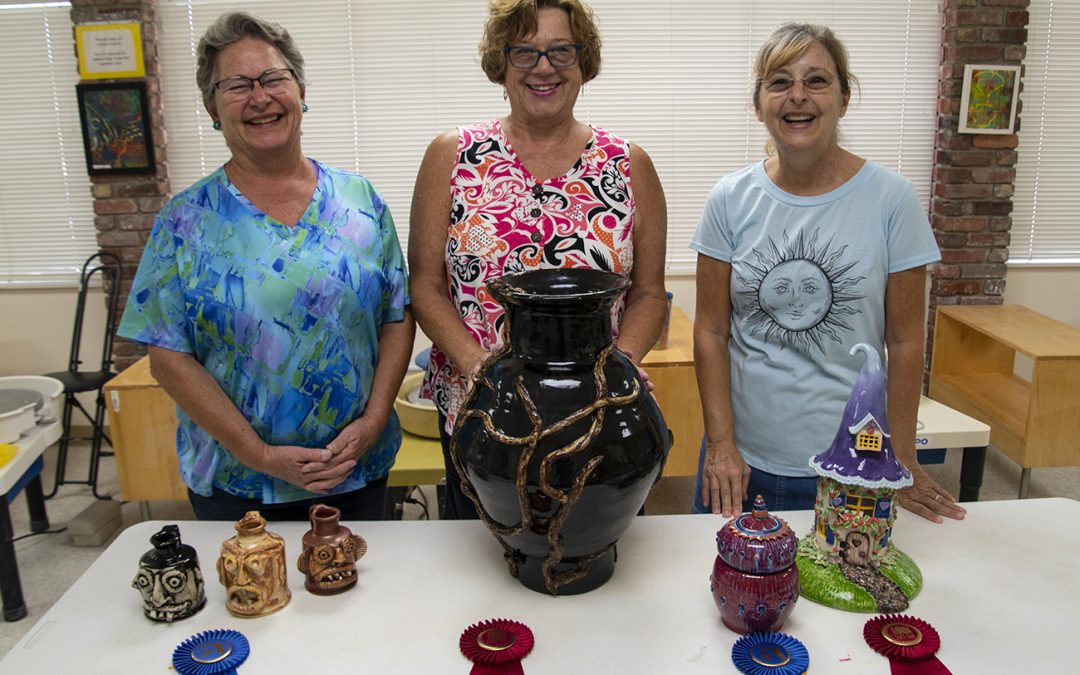 Pottery Club Wins Again at State FairBy Kai Rambow "I saw a program on PBS about ugly face jugs and I became inspired," reflected Terrie McNamara.  "I had also just broken a pot on the kiln and said 'Oh, my gosh, perfect teeth.' I wanted to do...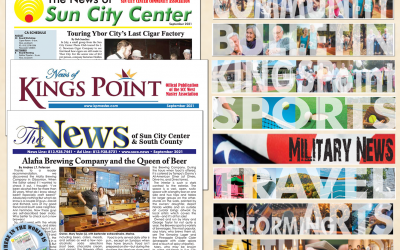 In this issue… Tour Ybor City's last cigar factory, sing with the bluebirds of happiness, save the date for FallFest, commemorate 60 years of SCC with the History Society, tip a glass at Alafia Brewing Company, hit the beach with some rescued...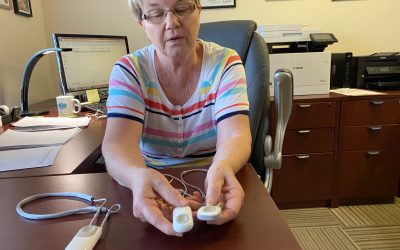 Men's Club Extends an Important LifelineBy Bob Sanchez When Joan Gross crashed her golf cart into trash barrels at 10 p.m., that was the last straw for her daughter Ellen, who moved in with her mom, who is 86 now and has dementia, heart...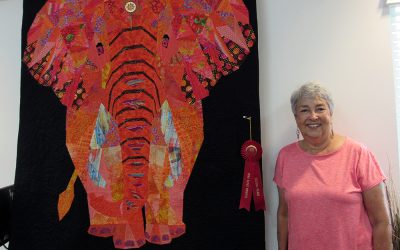 Jan Ring Quilter ExtraordinaireBy Paula Lickfeldt Jan Ring has been sewing since she was a youngster in 4H. She began quilting when she moved to Florida in 1984. Since that time, Jan has made many quilts and quite a few of them have taken...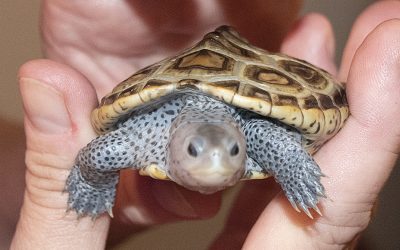 A Labor of LoveBy Kai Rambow The tiny fawn vacuumed its bottle in three gulps. It was very hungry and had only been rescued a few hours earlier.  Fortunately, it was now at Owl's Nest Sanctuary for Wildlife. Owl's Nest is the largest...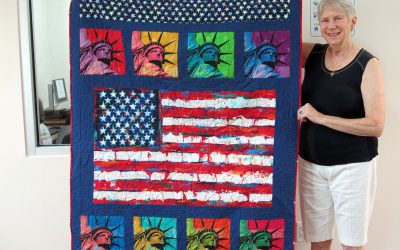 Nan Ryan Showcases Her Quilting TalentBy Paula Lickfeldt Nan Ryan moved to Columbia SC in 2006.  One of her friends was a quilter, and she encouraged Nan to start quilting. Nan's first project was an Iris that she finally finished after she...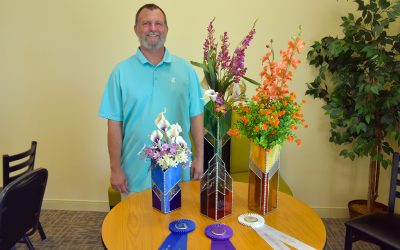 First Time Entrant Wins Best of ShowBy Kai Rambow "I hadn't expected to do well," shared Bradd Robinson. Robinson joined the Stained Glass club only two years ago, and this was his first competition. Robinson walked away with three ribbons...