Veterans Fair Draws Tremendous Response
By Kai Rambow
"I went all the way around, and I probably stopped at ninety percent of the tables," commented wheelchair-bound veteran, Patrick Clarahan.  "Just about every table, people were very easy to talk to.  There were a few tables at which I had to wait, but it wasn't that bad."
The wait was due to the tremendous response from community veterans. Hundreds showed up to learn about services available to them. Pam Smith-Beatty, a 21-year veteran herself, is the Women Veterans Program Manager with the VA.  When asked about the focus on women, Smith-Beatty illuminated: "A lot of times they don't think of themselves as veterans. Women do so many things, they often push their service to the side and we don't think about it. In reality, that service means that you're eligible for health benefits, care, loans and the GI bill. If you've ever served in any service, you should look and see what you're benefits might be."
Not knowing what is available was a common theme. Manuel Guevara with The Crisis Center of Tampa Bay shared how very few veterans knew about their center. "It is the epicenter for crises or referral.  We answer the 211 calls, the substance abuse hotline, and the suicide prevention line." Just about any question related to mental health and well-being can probably be answered by this center.  More importantly, they can let veterans know where to find help.
Clarahan was enthused to learn about some extracurricular activities that should help him get out of the house more.  "Because of my disabilities, I spend a lot of my time watching TV."  This well attended event was clearly helpful to many veterans.
In the photo: Bud Brubaker and Bill McKiernan volunteered to let Marine veterans know about the Leathernecks club.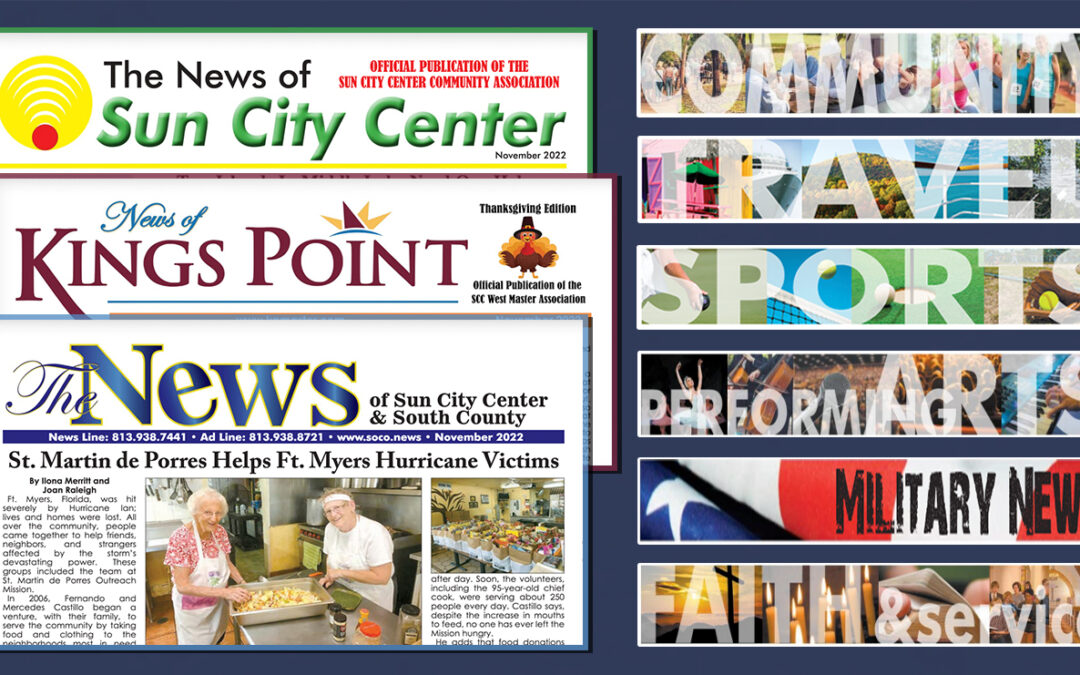 As we turn our clocks back (November 6) and look forward to fall, we hope you are doing well and excited about another beautiful month here in Sun City Center and South Hillsborough County. In this issue… After Hurricane Ian, our...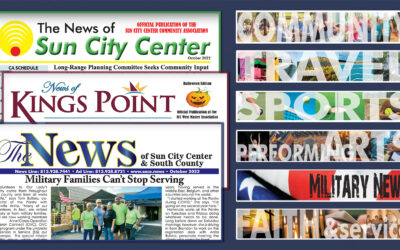 First and foremost, all of us at The News hope that all of you reading this came through Hurricane Ian healthy and safe. Our News team fared well, considering. A few trees and power lines down, loss of power, and the general inconveniences of temporarily...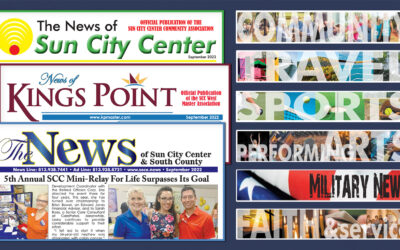 In this issue… Run with the Hemingways, explore the new ER at Sun City Center, take a Night Out with the sheriff's department, see how SCC is Sprucing Up, celebrate Photo Club competition winners, get updated on the Long Range Plan, make some...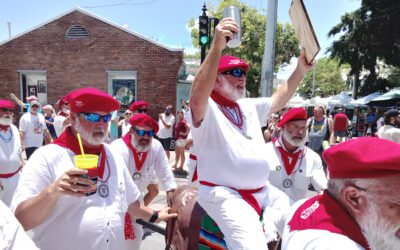 Local Lookalikes Run With the HemingwaysBy Kai Rambow "Always do sober what you said you'd do drunk. That will teach you to keep your mouth shut." – Ernest Hemingway"There might have been some alcohol involved," recalled Gary Mull.  Mull...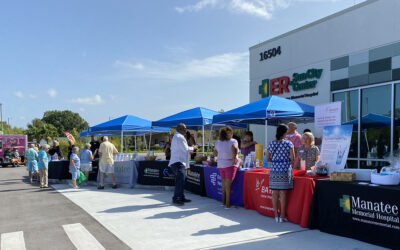 Community Expo Showcases ER at Sun City CenterBy Bob Sanchez The ER at Sun City Center hosted a Community Expo to show off the brand-new facility to the public. The free-standing building is an extension of Manatee Memorial Hospital....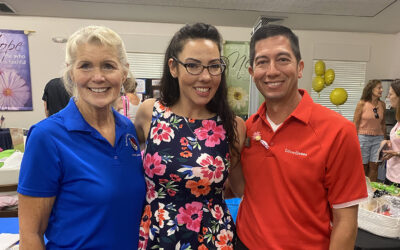 5th Annual SCC Relay for Life Surpasses Goal By Bob Sanchez The 5th annual SCC Mini-Relay for Life drew hundreds to St. Andrew's Presbyterian Church on July 29 to raise money in the fight against cancer. The event raised $16,757.39, easily...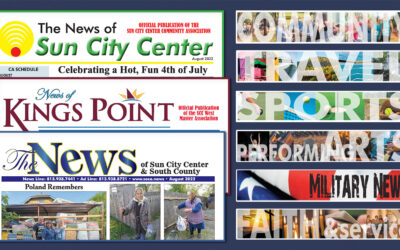 In this issue… Learn how volunteers here and abroad are helping Ukrainian refugees, meet some local teens investing in our community, catch the raptor show at the Florida Aquarium, celebrate our Independence, raise a nesting pole with the...