Hungry for Something New? Different?
By Andrea L.T. Peterson
As local legend goes, "A cyclone blew seven tikis onto the banks of the Alafia River in 2016," inspiring the Polynesian "flavors and flair" of Riverview's Tiki Docks Bar & Grill located at 10708 Palmetto St. (visible from U.S. Hwy 301, just before crossing the Alafia River from the south).
While you can easily pass the turn off, it is considerably more difficult to miss the building itself—emblazoned with colorful tikis overlooking the river itself. The setting, the exotic décor, are as inspired as the menu which includes a raw bar, salads, sandwiches (starting at $11), an assortment of seafood dishes (from $16), and steak ($24) for the landlubbers like myself as well as a kids' menu. Reservations are probably a good idea for a large group. The bar itself is well stocked, and there's live music.
Good food, ambience, an idyllic setting with ample outdoor seating and easy social-distancing—perfect for that special occasion.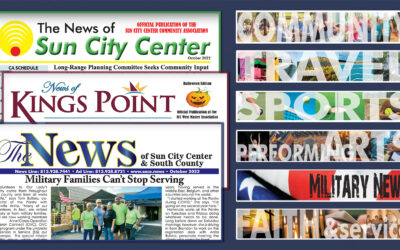 First and foremost, all of us at The News hope that all of you reading this came through Hurricane Ian healthy and safe. Our News team fared well, considering. A few trees and power lines down, loss of power, and the general inconveniences of temporarily...