A Groundbreaking Event
By Cathy Meyerhoff, SCC History Society
Though May 10, 1961 may not ring any bells with most local residents, it is important.  On that day ground was broken for the retirement community of Sun City Center. Nothing is recorded about this event other than the date. There is no record that Del Webb, whose plan it was to develop the town, was present. Even the location of the turning over of the first shovel of sandy soil is lost in the mists of time.
Information is known about the events leading up to this date. Twelve thousand acres of scrub, swamp, and pasture in southwestern Hillsborough County were the home of 2,500 cattle before Del Webb purchased the land in 1961 to be developed into a third Sun City community for retirees, following successful developments in Arizona and California.  
When the symbolic groundbreaking took place, orders were already issued to have streets, a shopping center, post office, recreation center, motel, restaurant and model homes in place before a grand opening scheduled for January 1, 1962.  Eight months later, that plan became reality and today we reap the benefits of that May groundbreaking 60 years ago.
IN THE PHOTO: Circa 1964 – This is a photo of the groundbreaking of the Emergency Squad Building showing Del Webb, second from the right, holding a spade. Unfortunately, the History Society has no photos of the groundbreaking of Sun City Center.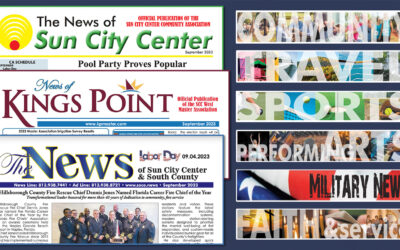 In this issue… Have some Pool Party fun, celebrate with the History Society, register for the Active Life Games, see why local volunteers rock, go Trail Blazing, learn why a local fire chief received a lifetime honor, support Adaptive Sports,...