A Special "Thank You" for Our First Responders   
By Diane M. Loeffler
On Wednesday, December 22, a group of Kings Point and Sun City Center Community Association residents met in the lobby of South Bay Hospital to donate money to three groups of first responders. Todd Carnell, the Rescue Chief of the Hillsborough County Fire Department, Mike Bardell, the Chief of the Sun City Center Emergency Squad, and Sheldon Barr, the South Bay CEO accepted donations on behalf of their organizations.
Kings Point resident Bill Barker says, "I came up with the idea to put on a performance to raise money for first responders, then Linda Stone took the bull by the horns." A group of Kings Point Follies and Pelican Players actors, actresses, singers, directors and organizers put together a show. They were concerned about how many tickets they might sell for the November 19 event and were very happy when 316 people came. This allowed them to present $1,056 checks to each of the organizations.
Barker says "We put the whole show together without any expense. VESTA allowed us to use the space at no cost." All the money went to the SCC Fire Department, Emergency Squad, and South Bay Hospital.
The recipients were grateful for the donations. Each has something special in mind for the funds. South Bay Hospital is using the money to enhance their in-house caregivers' sanctuary room. The sanctuary room is a space where caregivers can go to take a break, relax, and regroup.
The Hillsborough County Fire Department sponsors a cadet youth fire program. They are earmarking the funds for the cadets' travel and food expenses while they compete against other cadets from other locations.
The SCC Emergency Squad is using their donation toward the replacement of lift mechanisms. These mechanisms lift stretchers into the back of ambulances and must be in good working condition.
Thank you to everyone who made the donations possible, and thank you to the first responders who serve our communities so well.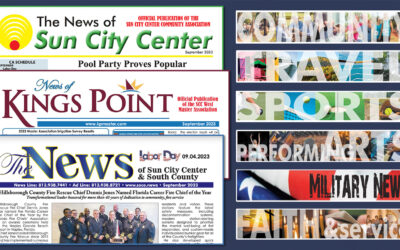 In this issue… Have some Pool Party fun, celebrate with the History Society, register for the Active Life Games, see why local volunteers rock, go Trail Blazing, learn why a local fire chief received a lifetime honor, support Adaptive Sports,...