Alafia Brewing Company and the Queen of Beer
By Andrea L.T. Peterson
Thanks to a reader recommendation, we discovered the Alafia Brewing Company in Gibsonton. When the Editor asked if I wanted to check it out, I thought: "I've been alcohol-free for more than 35 years. What do I know about beer? Especially craft beers?" Absolutely nothing! But what I do know is a couple of guys—David and Richard, sons of my good friend and South Lake neighbor, Ann Fenimore. Now these guys are self-described beer snobs. Who better to check out a new brewery!
So, off I went with the whole family (Ann, the boys, and sisters Beth and Susan) to check it out. Located about 10 miles from Sun City Center, just north of I-75 and Big Bend Road on U.S. 41, the Alafia Brewing Company is in a less than attractive strip mall. But I implore you to ignore the total lack of curb appeal and check this place out.
What's lacking on the outside is made up for on the inside. Aside from a variety of 27 options, including beers, ciders, meads, and seltzers as well a few non-alcoholic soda selections (root beer, chocolate cream, and grape) the Brewery offers live music, karaoke, trivia, professional wrestling, and drag, burlesque or male reviews on given nights.
Food is only served daily after 6 p.m., except on Sundays when they have brunch. Food isn't prepared on site—but during the daytime the Mexican store next door has an intriguing menu of authentic Mexican dishes and guests are welcome to bring food from next door and eat in the Brewing Company. During the hours when food is offered, it is catered by Tampa's Danny's All-American Diner (of Diners, Drive-Ins, and Dives fame).
The interior is such a stark contrast to the exterior. The space is a vast, open, rustic space with a lengthy bar on one side and two tops and tables for larger groups on the other. Murals on the walls, painted by the owners' daughter, depict Florida wildlife and an outside art curator brings artwork by local artists which covers the walls—and it's all for sale!
Owned and run by Mary and George Taylor for not quite a year, the Brewery sports a variety of beverages. The most popular, says Mary, who brews them all, are The Kenosha Lager and the Pineapple Chipotle Cider (pineapple with cider spices and a touch of spicy chipotle).
Mary, who may be known to some old-timers in Sun City Center from when she brought her students (she taught English at East Bay High School for 33 years) to compete in the Rotary Youth Oratorical Contest held at Freedom Plaza, is something of an accidental brewer! Before she retired from teaching in 2017, she and her husband went to a Halloween party thrown by a teacher friend. He served beer made from a Mr. Beer kit. Impressed with it, she purchased a Mr. Beer kit for her husband who'd brew up some selections now and then.
Then George came to Mary and announced, 'I've found a brew club! We MUST go!' "We?" Mary responded! Well, thrilled though she wasn't, they went. "They were really lovely people, but I had zero interest," she told me. Not long after, George announced that they had to "get ready" for the WAZOO beer festival held at what was formerly The Lowry Park Zoo.
They were hooked. Mary has quite a collection of awards for her brews, including the title Queen of Beer (QOB) awarded for her "Berliner Weisse with strawberry and rhubarb" at a California homebrew contest for women in 2015.
The consensus of my beer buddies today was that the two dozen-plus brews includes "an eclectic mix of styles–well-made, very clean, perfectly blended. Most visitors to the brewery will have no trouble finding something (or several somethings) they like."
Of those brews made with real fruit, Richard said (and David agreed), "the fruit is nicely integrated, just so you know it's there."
"It's a great opportunity to do a bunch of tasters and go for it!"
The delightful bartender, Marina, couldn't have been more solicitous, more attentive, or more pleasant. And I can assure you, my crew kept her busy!
So, if you're a beer aficionado, or even a casual beer drinker interested in trying new and exciting brews, The Alafia Brewing Company might be just the spot that "hits the spot" for you.
IN THE PHOTO: Owner, Mary Taylor (L), with bartender extraordinaire, Marina.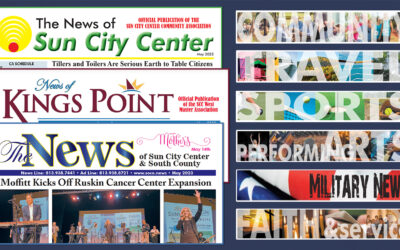 In this issue… Learn about the Moffitt Cancer Center kickoff, get an update on the Waterset Sports Complex, improve your green thumb with the Tillers and Toilers and the Elegant Gardeners, sail with the Cygnet Yacht Club, save the date for the...